Sidhbh Gallagher – a brief bio
Sidhbh Gallagher- it's pronounced 'sive' as in skive or alive– hails from a little village called Louth, in County Louth, Ireland. After attending St Louis all-girls Catholic secondary school, she graduated with a medical degree from nearby University College in Dublin. She moved to the USA when she was 26, working mostly in Philadelphia and Atlanta before making a pilgrimage through the unlikely triumvirate of Belgium, Serbia & Australia to hone her plastic surgery skills.
On her return she worked as an assistant professor at Indiana University from 2015 to 2020 where she trained medical students and plastic surgeons with her new-found skills in techniques such as her signature 'masculoplasty'. Between 2015 and 2018 she reports that she performed more than 200 surgeries on trans-identified people, removing and reconstructing body parts and tissue in what she calls 'gender affirmation surgery'.
In 2020 she moved to Miami, where, with her sister Neasa, she established Gallagher plastic surgery. According to her website she "seeks to combine her artistic flair with the latest cutting edge techniques".
Gallagher estimates that she currently has about a thousand patients.
Miami may seem a world away for those of us here in the UK, but Gallagher's reach and influence is not to be underestimated. In 2019 she met with the Irish Minister for Health Simon Harris and representatives from the Department of Health to 'discuss the issues faced by the trans and non-binary community seeking healthcare in Ireland'. Many of her clients fly in from the UK: her social media posts often make reference to clients having come from London or elsewhere 'across the Pond'.
Her practice specialises in performing elective double mastectomies on gender dysphoric young women at a cost of around $9-12,000. 'Top surgery' is her signature dish, but there are plenty of other strings to Gallagher's bow- and she offers something for the lads as well.
If you wish, she can remove your testicles (Orchiectomy) so skillfully that you can go back to work the next day. She can get rid of the scrotal skin too, but only if you are really sure you don't want it made into a vagina at some point in the future. In that case, hang on to it.  'Dimple Vaginoplasty' sounds almost like the name of a 1960s doll, but it is a procedure that creates the impression of a vagina 'without depth'. It's a 'shorter and less dangerous' surgery. Penile inversion vaginoplasty turns your knob outside in, basically. The patient must be prepared to look after the result (by dilation) for the rest of his life. It is 'important to be at a place in your life where you can cope if complications happen'. After bottom surgery the patient may want labiaplasty to remove 'annoying scars or lumps'. She can fix other surgeons' cock ups too, including loss or lack of vaginal depth, scar tissue, lumps and bumps or too large a clitoris.
As early as 2017 she was offering female clients a double whammy – top surgery and hysterectomy at the same time. NO PROBLEM.
It all sounds so easy.
In the news 2018
In 2018, Gallagher appeared in a spattering of articles in the media. She was interviewed about living through one of the coldest winters on record (evidently your corneas can freeze) and she featured on her old school Facebook page as 'an inspiring past pupil'.  In June 2018, Louth Argos ran an interview in which it called her "a leading light in gender affirmation surgery". It was during an internship in Atlanta, she told the Argos, that she became interested in plastic surgery. She 'loved the rush'.
'… it immediately clicked. They were doing real 'Frankenstein' stuff. Taking parts of the body completely off and sewing them back on underneath a microscope. I was blown away and I really hoped that reconstructing and enhancing body parts would feel the same as making pieces of art back in the Louis did..Luckily- it does!'
While working in Indianapolis, Gallagher told the Irish Times, she would get up at 4am to do paperwork and then operate between 7.30am- 4.30pm. Friday was clinic day, for seeing pre- and post-op patients. Most nights, she said, she ran six miles to clear her head.
" The career opportunities are amazing. I'm the only person doing gender affirmation in a state of six million people, and there's nobody in many of the neighbouring states doing it."
Moving to Miami
In November 2020, having correctly predicted the amazing career opportunities ahead, Gallagher was featured in 'VoyageMia- Miami's most inspiring stories' about her recently-opened practice in Florida.
"… right before the pandemic myself and my sister Neasa set up a practice here in Miami focused on gender affirmation and cosmetic surgery. Despite all the craziness of 2020, we have about 1000 patients to date, who fly in from all over."
Pricewise, she is high end, coming 9th on the topsurgery.net list of 74 named doctors that will perform an elective double mastectomy, nestling between Dr Panstritum of Thailand, who charges around $3,ooo and  Dr Keith of New Jersey, who charges $15,000.
So here we are.
"I must confess that I lost faith in the sanity of the world when I saw it suffering the painful disorder of this island."
The Island of Doctor Moreau

When I first stumbled upon Sidhbh Gallagher on social media I was struck cold by the raw and stark photos of the work that she shared. I planned to write about her back then but, like so many other pieces, it didn't happen. These screenshots were taken in 2018 but are from her Twitter in 2017.
The photo on the right is captioned "One of our favourite patients, myself and Dr Hathaway did Top surgery and hysterectomy at the same time 6 weeks ago – 1 night in hospital and doing great! #oneanddone #ftm #trans"
Accompanied by blushing emoticons and exclamation marks, Gallagher's posts really did make me question the sanity of a world that could so suddenly and entirely celebrate the removal of healthy breasts as a practical solution to a  young woman's mental health issues.
Salvation
There is an almost religious masochism in the commitment to 'top surgery', as if offering up such intimate and potentially life-sustaining organs as a sacrifice is a pledge to the orthodoxy. To face the pain is brave; the scars are trophies of war. In a young mind pre-occupied by gender, what could be greater proof of manliness?
This sudden tsunami of trans-identified young women is in danger of drowning itself- but for now they are indeed an amazing career opportunity.
Sidhbh is on a mission.
#gallagherguys
"Summer is coming! shirtless selfie time- keep 'em coming"
It's Spring 2018. "Summer is coming!" Gallagher reminds her followers, retweeting photos of a selection of the young women whose healthy breasts she has removed. Once you've had your breasts cut off, of course, there's no need for the T shirt or bikini top that society expects women to 'cover up' with.  Let the fun times begin!
Sharing a photo of another topless torso on Instagram she adds, "Can I just say that I have the best job EVER?! You guys give me the best practice I could ever dream of ? – you know who you are!"
Gallagher had much to retweet that springtime. Here is a small selection of her tweets.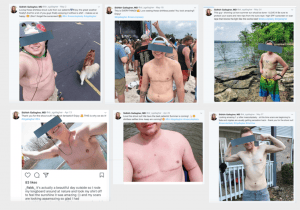 "Loving these shirtless shout-outs!"
"Enjoy the great weather finally! And for a lot of you guys finally enjoying it without a shirt- makes us so happy! Don't forget the sunscreen!"
"This is EVERYTHING ? Love seeing these shirtless posts! You look amazing! Enjoy!"
"This guy- showing us how summer should be done. I LOVE it!"
"thank you for the shout out. You look fantastic! Enjoy ? this is why we do it!"
The following year, in 2019 she made another call for her 'Gallagher Guys' to share more photos of their now-naked chests.
'Monday morning masculoplasty motivation! Let's make shirtless fall pictures a thing!'
 I wanna see pics…
In May 2020 she shared a montage of topless clients, in swimming pools and on the beach, with the tagline "This is a huge weekend with so many trans and non-binary folks hitting the beach or pool shirtless".
It has 3,440 views.
"Your job and love for what you do literally radiates in your personal life and that makes more than just a surgeon—you're an inspiration!" comments a fan.

"I mean being a t*t wizard is easy with this lot  #masculoplasty"
In October 2020 Gallagher shared another video montage of her Gallagher guys on TikTok.
"When it comes to top surgery, my patients just keep making me look good. Thank you Gallagher guys!"
The music playing in the background was 'she's a whore, I love it'.
And yes, she really does refer to herself as a 'tit wizard'.
No nips, no problem.
One of the biggest complexities of 'top surgery' is reattaching the nipples. All sorts of things can go wrong. At very least, it's time consuming. And time is money. But more of that later.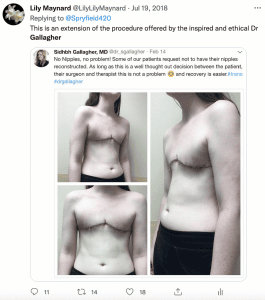 I remember reading about nullification in 'Modern Primitives' way back in the 90s but until I discovered Gallagher I didn't know that what she calls 'nip-free top surgery'- aka removing the breasts without preserving the nipples- was 'a thing' among young trans-identified women.
Then I saw Gallagher's photos of one of her patients with the tweet:
"No Nipples no problem! Some of our patients request not to have their nipples reconstructed. As long as this is a well thought out decision between the patient, their surgeon and therapist this is not a problem and recovery is easier."
The tweet was accompanied by  a smiling blushing emoticon, the hashtags 'trans' and 'Dr Gallagher' and several photographs of a pale and faceless young woman with a large raw scar running across her otherwise blank chest.
I retweeted in horror and Gallagher blocked me.
Fast forward to 2021 and the practice has become more popular. Gallagher explains merrily:
"No nip surgery takes 20 minutes less time so can be cheaper. And with no nips to care for, you don't need band aids and antibiotic cream."
On Instagram she posts an example of her latest work. A young woman has had her breasts reduced and has chosen piercings over nipples.

"Non-flat nip free result ??- this patient got piercings too ?. When it comes to top surgery you have options! Our job is to get you the most affirming result for you ??"
A July 2021 TikTok video asks the question, 'do I have to get my nips put back on with top surgery?"  Gallagher shakes her head and waves her hand disimssively. 'No nips No problem.'
Je ne regrette rien
"While I don't have any formal training in psychiatry or psychology it has become such a huge part of my practice…"
In 2021 Gallagher recorded a short video for LGBTQ and ALL, on the importance of mental health.
She spoke of how some patients experience feelings of guilt or regret – or even become clinically depressed- after surgery. This could happen after any surgery, she hastens to add, but feelings of guilt and regret surrounding elective surgery can make it worse.  It's important it is to encourage patients to plan in advance 'while they're in their right mind' how they will deal with post-op depression, for example by booking an appointment with their therapist in advance.
It sounds to me very much like 'we have to prepare our patients for a sense of crashing disappointment, depression and regret post surgery, we suggest they see a shrink,' but if you think I may have interpreted it wrongly, you can listen to her speech yourself, here. It's only three minutes long.
Elsewhere she assures journalists that 'we know regret is rare'.
But when does regret count? Immediately afterwards?
Five years down the line?
Ten years? Fifteen?
We do know it happens because, despite the pressure to stay silent, more young people are starting to speak up about it.
Ask Grace.
Grace, a young detransitioner who is brave enough to speak out about her experiences, had an elective double mastectomy with Gallagher and regrets it. She came across these posts from Gallagher talking about her commute to work to 'yeet the teets' and complaining that she would 'only get to yeet four teets next week'.
"Turns out my surgeon is on tiktok advertising her services (username gendersurgeon)." tweeted Grace.  "She loves talking about "yeeting the teets", which I guess is the, uh… professional term for double mastectomy these days?"
Yeeting the Teets / Teetus deletus
Gallagher often refers, on social media, to removing breasts as 'teetus deletus'  and the act of getting rid of them is a 'teet yeet'.
"I have major reservations about using this kind of jokey meme language to advertise/trivialize gender surgeries to kids/young people on tiktok. But okay, Dr. Teetus Deletus." continued Grace.
Another detransitioner commented on Grace's thread, "I think about my fucking amputated breasts decaying in a medical waste landfill or something somewhere after my body worked to grow them and I want to die :)"
Grace's thread about Gallagher is on Twitter here.
Here are just some of the comments Gallagher has made- in the last three months- when sharing photos of the young women she has operated on.
Doing great after the yeet
Doing awesome after teetus deletus
Congrats on the teet yeet
Doing awesome after the yeet
Doing fantastic after teetus deletus
congrats on the teetus deletus
Congrats on the yeet
Congrats to this one! Sailing thru the yeet
The darker side of 'top surgery', the physical and mental health issues that it may cause- or fail to resolve- is not one that young women tend to talk about on social media. Instagram is full of teenage girls who are convinced this surgery will be an answer to all their problems. Expressing regret is a great way to get yourself ostracised from the online community that lovebombs you before your own surgery; from the other girls who would do almost anything to fulfil their own 'top surgery' dream.
Having your breasts removed with Dr Gallagher costs $9-$12,ooo. It's hard to get all, if any of it covered on insurance. Many of Gallagher's patients have worked two jobs, their parents have remortgaged their houses; some have crowdfunded for their surgery. Clients fly in from London, from Dublin, to be granted this perfect, essential, life-saving surgery that will herald the start of a new life.  Why would they see it as life saving? One influence might be the incessant repetition of innaccurate statistics about how gender dysphoric young people will kill themselves unless they transition.
"Gender dysphoria if untreated has a 46% suicide attempt rate and many of my patients consider their surgeries truly lifesaving," Gallagher told the Argos back in 2018.

"I came across Dr. Gallagher on TikTok and watched her videos on questions a lot of us have and I knew I wanted her as my surgeon"
"Yesss Dr Gallagher!! She's my dream surgeon ?"

"she's the best I follow her on Tiktok and insta ?"
"Same! Her Instagram is what ultimately drove my decision to choose her as my surgeon"
"…her office is decked out in trans pride colors. This isn't common with a lot of the surgeons I was looking into"
Gallagher has a startling social media presence and an attitude towards her potential clients like no other surgeon I've come across. The best word I can think of to describe it is frivolous. Nothing is serious. Everything will be fine! She is the cool, quirky big sister. The Irish Times referred to Gallagher as being 34 in 2018, which would make her 37 at the time of writing (Jan 2022) . She does her own botox (yes, there are videos). In her better-lit TikTok and Instagram posts she could pass as 5-10 years younger. Gallagher is fun! She wears tight dresses. She flicks her hair and crosses & uncrosses her legs for the camera.  She smiles and smiles and smiles.
"love your vibes all the time" comments one follower.
Party on on TikTok
Cutting off healthy body parts is evidently just one big long party down in Miami.
"One of life's simple pleasures, blocking the transphobes off my accounts. Sorry buddy, you're not welcome to this party. What were you doing here in the first place?"
In one video Dr Tran asks the camera, "If they are transphobic why are they on this page?" Techno music plays in the background and confetti sprinkles around her. Gallagher appears: "Because they want to party! We've got the best parties! But they're not welcome – by-eeee!"
When negative comments were left on her review page, Gallagher made a video apologising for calling feminists TERFs and saying from now on she'd call them FARTS, which she said stood for 'Feminine Appropriating Radical Transphobes.'
As for insults "It doesn't even hurt, at this point I'm numb. There's no feelings."
I find those words rather ominous but not entirely unsurprising.
The fans, of course, love it.
Because Gallagher is not just a surgeon, she's AN ALLY.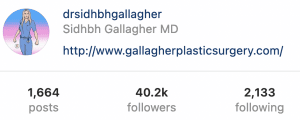 On Instagram, where she shares 'before and after photos' of clients, she has over 40k followers. Cute green shamrocks cover the nipples in the 'before' photos.
Predominantly though, her Instagram is mostly photos of smiling- now sometimes mask clad- young women, often wearing shoes that look too big for their feet, showing off their scars in open-necked shirts.
Some of them have self-harm scars visible on their arms or stomachs. Sometimes it is a parent or a sibling standing next to them, sometimes the Doctor herself. These photos were all shared in the last three months.  Welcome to the Gallagher Guys. Such fun!
"Remember nips always look a lil scary at first!" warns Gallagher, brightly, on TikTok.
In one photo, the whole family, mum, dad and recently-operated-on daughter stand in front of a pink and blue pastel poster that reads 'be yourself everyone else is already taken'. You cannot see their faces because they are covered by masks, but you can see the scars on their daughter's chest.
In another photo a couple pose, their toddler sitting in front of them in her buggy. "When dad gets the yeet. So cute!" captions Gallagher.
A third post features photos of a young woman, her torso and arms covered in self-harming scars, and raw red lines where her breasts used to be. Unusually, comments have been turned off for this photo.
Gallagher's TikTok account, where she has 191.1k followers and over 4 million 'likes', is if anything more surreal, featuring a variety of videos where she skips around like an excited, wide-eyed gazelle, erasing potential problems and complications from your 'top surgery' with a swish of the gender fairy's wand and the occasional swing from a jaunty ponytail.
Gallagher has her own practice now. Her videos are often filmed on a high sunny terrace with the sea in the background. The performance is more like an audition piece than a surgeon explaining elective surgical processes.
Words appear on the screen by her head and are accompanied by some current vaguely relevant jingle (because that's how TikTok works). Sometimes she looks at the words or waves them away. She nods and smiles and smirks a lot.  In some she clutches a large white cat called Sugar Baby. Sugar Baby is a dead ringer for Blofield's feline in Thunderball.
Honestly, I wonder how she has time to yeet so many teets and to make 'spare parts penis'. Let alone do all that running to 'keep her head right'. And she has a pilot's licence… busy busy busy.
Oh, did I not mention 'spare parts penis'?
Spare Parts Penis
In a May 2020 TikTok video, Gallagher explains that 'when we make a penis we must bring in parts from elsewhere'. The donor site, which can be arm, thigh, leg, belly or back, will be left with scarring. Traditionally, surgeons use flesh cut from the thigh or forearm to make a roll or tube that can be attached to the pubic area. Then the original donor area needs another graft, usually taken from another limb. This is called phalloplasty, and that's just a part of it. As you can imagine, even the best results can look a mess. Google it if you must, I'm not going there right now.

Gallagher breaks the mould in using skin from elsewhere.

"Like…could you take the FAT out of your stomach for that?" asks an incredulous follower.

"Are you psychic??" exclaims Gallagher, in one of her rare replies. "I JUST made a video on this .. not fat you need skin as well ? I'm going to post it right now"
And what a video it is. Gallagher offers her followers the opportunity to have their fat stomach cut away and crafted into a neo-penis. She calls it 'spare parts p*nis".
You can see the video here.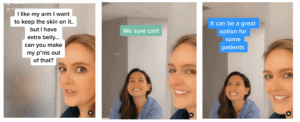 "I like my arm I want to keep the skin on it.. but I have extra belly… can you make my p*nis out of that?"
The two women nod and smile at each other. "We sure can! It can be a great option for some patients. We love making "Spare parts p*nis"!"
"I'm 15 and already jumping with joy! This made my day!!!" comments one young fan.
scars
Another video asks -rhetorically of course- if it's possible to get phalloplasty if you have scars on your arms or legs.  We can see in the pictures on her social media accounts that some of Gallagher's patients self-harm and this is clearly a topic of interest to many of her young followers.  Not to worry, though. It is indeed possible, Gallagher assures them.
" Yes! it depends on the scars but if we can't use those places… there are other places to take from- belly, inner thighs…"
They seem relieved.
omg i never even thought ab the scars lol
 I was so scared because of the scars all over my body and especially arms and legs.?
i have a lot of scar tissue on my chest, would that affect top surgery?
Lmao I have scars everywhere but my tummy and it's already too tight
hhh dude i have scars pretty much all over me
bold of u to assume I dont have scars on my belly and my inner thighs as well
"Even if u can still use our arms or legs," muses another, "can we choose for u take it from somewhere else instead?"
Gallagher is followed by an army of excited teenage girls. They want results and they want them now.
"Wish we could get a cis man penis put on us ??☹️" muses another.
Gallagher cannot do that (there is, of course, a video explaining why not) but it seems that there are very few obstacles that she cannot surmount. She has hope for stem-cell technologies and 3D printing in the future.
"I've got a daughter that would happily donate her male organs for transplant. Hope by the time she's of age to have surgery that will be possible. Seems terrible to let such a beautiful part go to waste." comments a parent.
"she's lucky to have you" comments another user.
After all, everything is awesome and there's nothing to worry about.
Things not to worry about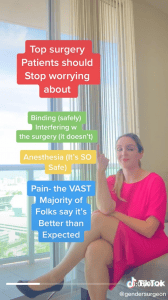 "Top surgery patients should stop worrying about:
binding (safely) interfering with the surgery (It doesn't)
Anaesthesia (it's SO Safe)
Pain- the VAST Majority of Folks say it's Better than Expected"
In another video Gallagher assures viewers that they're 100 times less likely to get breast cancer after top surgery.
What should potential patients worry about?
Gallagher suggests focusing on stopping smoking, getting the pre-surgery health checks done and, of course…
calling your insurance company to figure out where you stand with coverage.
The reality of 'top surgery' is that it is a huge operation. In many cases women are left with a scar that runs from armpit to armpit.  As many of you will know, even a small scar can feel tight in cold weather and scar tissue does not regain the flexibility of uncut skin. Surgery can leave the body in shock, and there are numerous testimonies to 'top surgeries' that have gone wrong under a variety of ostensibly reputable surgeons. You could look here, here or here.
The American Society of Plastic Surgeons warns "possible risks of transmasculine top surgery include, but are not limited to, bleeding, infection, poor healing of incisions, hematoma, loss of nipple sensation, loss of the nipple and areola, and anesthesia risks."
The Mayo Clinic warns of potential problems including " a risk of bleeding, infection and an adverse reaction to anesthesia…  poor wound healing, fluid buildup beneath the skin, a solid swelling of clotted blood within your tissues, damaged or dead body tissue, such as in the nipple, scarring, not being satisfied with appearance after surgery…"
Know your market
Here are just a few of her captions on patient photos in the last three months. See if you can spot a theme.
"All the way from London wonderful patient and supportive mum"
'Supportive families are the best!
Supportive brothers are the best
Supportive dads are the best
Supportive families are the best!
supportive moms are the best!
Supportive moms and supportive wives are the best
Supportive parents are the best
We Stan supportive parents
Such an awesome family
Supportive families are the best
By supportive, of course, she means 'willing to bring their daughters to me for top surgery'. It reminds me of that old children's entertainer joke, "Now remember kids, if mummy and daddy really love you they'll give you a pound to buy a balloon!"

What is with this language? Why is a professional woman approaching forty talking like a character from My Little Pony? Why, one almost might think she was trying to be 'down with the kids'.
One of the first rules of business is know your market, and Gallagher gets a 10 out of 10 there. Instagram and TikTok are full of angsty young people, overthinking and oversharing as young humans do. Her posts receive tens of thousands of 'likes' and- as in the case of London's Stuart Lorimer- if her clients and followers use the language of excited teenage girls there's probably a very good reason for that.
Let's have a look at some recent comments from her followers. Again, all these are from the last three months.
"om thankyou omg cant believe u replied lol"
"what is the price of the surgery I keep commenting and I'm rlly interested of getting it done by you" commented one follower.

"Sorry we missed you – it totally depends on the patient but usually 9-11k" replied Gallagher.

"om thankyou omg cant believe u replied lol" replies the potential patient.
Here are some more comments. I have spared you the emoticons.
i can't wait to get top surgery

i want this done omg
I love you!
Both goddess and amazing love your vibes all the time can't wait to have surgery with u
i wanna go to u for at least one surgery you seem so cool! Haha
Trans guy here this is so inspiring
This is gonna be me one day
I'm just so excitied
i wish i could get top surgery with you
I need this so bad
I want this freedom
THERE IS HOPE FOR MEEE
Can't wait for my turn one day
Time to get a choppy choppy for me
Cant wait to have this in 4 months
I Want This So Bad
I want
OMG I love this !!!! Can't wait until I can be a patient too
Can't wait til this is me some day
I really wish I could have been a Gallagher boy but I couldn't afford it!
OMG they look fabulous I love it makes me want to travel from the UK to get results like this!
I WANT I WANT I WANT
That's amazing I'm hoping that I get my top surgery that's my birthday wishing today is my birthday so he's to hoping
All I want for Christmas is for you to do my top surgery
Dope AF!
love it I wish I could get top surgery
awesome I'm in love with this
why you gotta be so far away d
this is so good wow
OMG this looks AMAZING!!!
you are a wizard there is no way you have the results this good without magic
this looks gorgeous wow!!
Love this so much
crying right now
that's so inspiring this gives me so much hope
I just got my surgery scheduled for April! Never thought it would happen this fast
How informed is informed consent?
"In order to meet the requirements for surgery, the patient will have to undergo rigorous screening, take hormones and, for the genital surgeries, live in their gender continuously for a year." reported the Irish Times in its 2018 article about Gallagher. How true is this? How rigorous are the screenings and checks?
In 2022, Gallagher posts on TikTok, "eww who talks on the phone? do you hate talking on the phone as much as I do? Well, here at Gallagher plastic surgery you can just text us. You can arrange a whole consult, probably set up most of the surgery, without talking to anybody on the phone. we will do video consult later, but just text us on this number."
Another recent TikTok assures wannabe patients that with some surgeries and in certain patient cases Gallagher can skip a mental health letter altogether and do informed consent alone. A third points out that Insurance companies often want one or more letters.
The letterless need not be daunted though. In the comments on one of these videos a non-binary mental health therapist replies, "And if anyone is required to have letter (looking at you insurance companies), I'm in FL & do 1-appt 100% free letters."
Failing that, there are companies that you can pay to write them for you.
You don't have to be on hormones before top surgery, not for a year, not for any time at all.
Oh, and if you don't want to hang around in Miami after surgery, your follow-up appointment can be done by video.
"When it comes to gender affirmation surgery what does informed consent mean?
Gallagher explains: "With any type of surgery we always get informed consent, meaning the patient is fully informed about the surgery they are signing up for. However with some surgeries and in certain patient cases we can skip a mental health letter and do informed consent alone. As the medical community gets a better understanding of trans healthcare this is becoming more common as we see that regret is very rare."
"Gender affirmation surgery is medically necessary"
Can a patient be too fat for top surgery? "We believe not really. Of course we have to be safe and make sure the patient can tolerate anaesthesia, but gender affirmation is medically necessary so we need a very good reason not to do it- weight is usually not one."
Likewise a big chest is not a problem. Not only do you get to 'yeet the teets' but no more back pain or rashes!
Is removing 'side boob' a part of top surgery?' It is indeed. Side boob is 'shown no mercy'. If you do lose weight before your surgery, she can remove the extra skin.
Don't be nervous
Why you should never be nervous at your gender affirmation surgery appointment "An important part of the consult is you is deciding if the surgeon is a good fit for YOU. Gender affirmation surgery is medically necessary so it's rare we give a hard 'no- it's usually a 'let's fix this first' or 'let's get more info'. Remember the surgeon's job is to help you along your journey."
What if I go 'nip free' for surgery and then change my mind?  Well people don't really do that, and if you did they could be reconstructed. Gallagher suggests your best bet would be 'SO realistic' 3D tattoos. Likewise, if you get 'nips' reattached at top surgery but want to lose them later, no problem. It's a 'simple awake surgery'.
A TikTok posted just this week deals with the issue of pain. 'What is pain like after top surgery?' Unsurprisingly, pain seems to be yet another thing not to worry about. "Most patients give it a 4/10 or less," Gallagher reassures, and the 'numbing meds' they use mean some feel no pain at all.
It should not be overlooked that, rather like the patients of London's Dr Lorimer, Gallagher's patients adore her. In just the last reviews on her facebook page call her 'truly an artist with a scalpel', 'an amazing doctor and LGBTQ ally'.
Here are a few more- all from the last few months.
"You go in for surgery and leave with friends."
"I absolutely adore Dr Gallagher"
"She is an incredibly talented and kind, genuine person who actually cares about trans/non-binary people."
"She is fantastic! One of my friends has gone to see her and honestly I can't believe he's finally getting what he has been dreaming for."
So what's the problem?
Performing surgery on healthy tissue to fix a mental health condition seems controversial at the best of times.
Gallagher's insistence that everything is fine, fine, fine, that regret is rare; that most things can be arranged by text; that follow up appointments can be done by video link… this all raises concerns.
Important questions are not being asked loudly enough.  If somebody believes themself to be something they are not, surely the problem is with the mind, not the body? Is gender dysphoria a mental health issue or is it not?  Can somebody who wishes to cut off healthy body parts really be assessed as being in a fit state to give informed consent?
But my biggest concern is the age of her clients. If the questions I raise above are important for adults, they are so much more so for teenagers. We know that many of Gallagher's followers on social media are children, but does she actually operate on children? How young a child would Gallagher consider suitable for surgery?
How young is too young?
According to her website, Gallagher is 'happy' to remove the breasts of minors with parental consent. In fact, she goes further.
"We understand that it may well be much more detrimental to the patient to wait until the age of 18 for surgery."
One social media fan asks 'would you do work on a 16 year old if they have consent from both parents?'
Another replies 'yeah I was approved for mine at 16 I did have a therapist letter so I'm not sure just on informed consent but I'm seeing her on Monday :)'
"
Woah 13? Holy shit dude I'm so happy for you that's epic to get it so young!

"

The hashtag #gallagherguys leads me to a shirtless selfie.

'How old are you?' someone asks. She replies that she is fourteen.

A few clicks tells me she had 'top surgery' in summer 2020, age thirteen, and that she has since spent time in a psychiatric ward.  I keep scrolling. Eventually I come across a photo of Gallagher removing the girl's double mastectomy bandages.

I'm not the first person to come across this case, I realise. In 2021 Anna Slatz wrote on 4thWaveNow about a thirteen year old girl who had her breasts removed with Dr Gallagher.  Several people have tweeted about it, I think others may have written about it too. It's no big secret.
One of the most shocking things about this is it's all completely legal.
I feel a slight sense of relief that it's the same girl.
Until.
2022
In the comments section of one of Gallagher's recent  TikTok posts I discover 14 year old X.
A few clicks tell me that she is already being prescribed  testosterone.
X has been approved for top surgery and her insurance will cover 70% of her costs. It's planned for February or March. She writes that 'a lot of surgeons will operate on minors' but not many will operate on girls as young as her. Her surgeon will. She adds that having a lot of letters from doctors and therapists helps. Who is her surgeon to be?  Gallagher.
"My parents have also been super supportive and have fought super hard for me to be able to do this." she writes.
It's February now.
TikTok indeed.
So to those of you who claim it doesn't happen- that thirteen and fourteen year old girls don't undergo elective mastectomies to 'affirm their gender identities' –  yes, it does happen. Here it is. It's happened in the past, it's happening now and not just in Miami. Gallagher is not the only surgeon willing to operate on minors.
A 2018 article in JAMA Pediatrics referenced a survey at a clinic in Los Angeles. It involved  two girls who had undergone elective double mastectomy aged thirteen and several others who had undergone the procedure at fourteen.
Where do you think it starts? It starts with sexist stereotyping. It starts with schools that tell children that they can choose whether to be a boy or a girl depending on how they feel about gender stereotypes. It starts with adults telling kids this is true because they're scared of looking mean or being called a bigot. Where does it start? It starts with your complicity. Know that that girl you're 'respecting' by using 'they/them' pronouns – that girl is going online at night and finding a world of impossible promises supporting the lies she's been sold.
It starts with teenage girls who feel different, often girls who hate sexism and feel misogyny, trying to establish a tribe, scrolling through social media accounts hoping to find somebody who really understands them. It starts with porn culture. It starts with the 'beautiful suffering' of binders.
If only they could just wave a magic wand and become a boy!
Enter big sister Gallagher with her pretty hair, her wide smile, her hatred of TERFs and her promises to fix everything. No wonder they call her a goddess.
What next?
Yesterday, Gallagher posted a picture of herself with young reality TV show star, Jazz Jennings.
Jazz, who was paraded on TV as the world's youngest transgender child aged just seven.
Jazz, who has a variety of mental health issues and eating disorders, whose every move has been broadcast to a voyeuristic world since he was knee high to a grasshopper; Jazz who wrote a picture book for little kids about how he was 'born in the wrong body'.  Jazz has been interning with Gallagher.
'I hope I can meet jazz when I go for my surgery' comments one user.
In a variety of posts featuring them together, the usual fangirling takes place.
"Okay def want to plan my top surgery with you guys, said it before but this only further cements it!"
I was particularly struck by an observation made on Gallagher's TikTok account last week:
well i guess it's time for your wait list to triple ?