It seems to have become horifically de rigeur to use young women who have had their healthy breasts removed to advertise products to young people, something we couldn't have conceived of even ten years ago. Yet here we are.
Costa Coffeegate has struck. Yet this is not the first time the trend has been exploited by marketing- we all know that a company wishing to stay solvent will only promote or support something if it believes it is expedient for it to do so.

In March 2023, Estrid used a 'non-binary' model, who had undergone non-medical elective breast amputation (or 'top surgery' as it is so cutely called by its advocates) in their adverts for razors. The images were featured in a lifesized billboard on a London Underground Station, and on television. Those who complained to the ASA were told the adverts did not glorify top surgery, nor did it infer that the cuts might have been made with the razors. The fuss died down very quickly.
Incidently, Gilette appear to have been the first company to use a trans-identified young woman- albeit a clothed one- to sell razors. Their 2019 campaign #MyBestSelf featured 'First Shave- the story of Samson', wherein a father is shown proudly teaching his daughter to shave as she talks about her' journey'.

Returning to 2023, in July the world was gifted a promotional offer from Doc Martens- home of edgy punky girls since forever, now slave to the genderwoowoo.

In the USA Instagram giveaway, one lucky person could win a pair of DMs – featuring, on the side of the boots, a picture of a girl with double mastectomy scars.
"We're giving away a customized pair of Docs by Jess Voss," gushed Doc Martens, "inspired by the queer community."
"Mastectomy scars? WTF?" comments someone called Leah, but she is drowned out by a barrage of voices.
'So cute', 'OH MY GOD I NEED THESE', 'i think I'm in love w these', 'these are fire and rainbows', 'I need theseeeee', 'me like so me enter to get', 'i would cry' etc etc, as an army of trans-identified teenage girls pour onto the post to leave comments and tag their friends.They sound exactly like the girls who gush over 'tit wizard' Sidbh Gallagher's Instagram posts. I wonder why.
In response to the criticism, Dr Martens issued a statement on 3rd August, which addressed nothing.

"inspired by the creativity of our community… blah blah… committed to defending dignity… representation for all… blah blah… take a stand against hate… blah blah…  LGBTQIA+ community"

Make no mistake – Top Surgery is now considered aspirational. If it wasn't aspirational they wouldn't be using it to try to sell you shit.
Unfortunately for Coca-Cola-owned COSTA, their advert appears to have been the straw that broke the camel's back. But more of that in a moment.
Believe me when I tell you that we have been marketing 'top surgery' to babies for several years.
Teaching kiddies about 'top surgery'
Toes were wiggled in the waters of wokedom by Nikelodeon back in June 2021, when it shared a video on its official YouTube page. A brightly coloured cartoon of a Pride Parade, led by American drag queen and TRA Nina West, featured characters from pre-schoolers favourite 'Blue's Clues'. One of the floats in the parade featured 'trans' beavers. One beaver appeared to be sporting 'top surgery' scars. West chanted "Hurrah! Hurrah!" as each float drifted by and the aspirational beavers and other animals waved their flags.
Surely people were mistaken? A children's cartoon celebrating the removal of healthy breasts? Impossible! You need to get out more! Are you mad? Not to mention the fact that this anthropomorphised beaver has only two scars when female beavers have four teats…
But wait.
"This is a genuine screenshot from the Blue's Clues Pride Parade," reported Snopes, "and a spokesperson for Nickelodeon confirmed to us that these markings are indeed scars from top surgery."
Lindz Amer, a specialist in 'queer all-ages digital media' who worked on the video said, "Queer folks are not a monolith… blah blah… the queerest thing I've ever seen happen in the preschool space… blah blah…queer, trans, non-binary, ace, pan and bi… blah blah… queer community… queer folks… blah blah… everything I do is in an effort to spread queer joy."
In 2022 Tyler Feder published a book for small children called 'Bodies are Cool'. The front cover pictures a woman who has had a double mastectomy.  "But perhaps it was for cancer!" I hear you cry, hopefully. Her beard and moustache would suggest otherwise.
In June this year, another kids' book appeared- 'Grandad's Pride'. Grandad's Pride is aimed at ages three and up, and features a picture of a young woman who has undergone- you guessed it 'top surgery'.
An even darker side was infered in some of the images involved. A child's bedroom, including Lolita sunglasses, the word MAP and a polaroid camera. 'Jane, Empress of the known Universe' ran a rather chilling thread on 'Easter Eggs' in the book.
Oxfam
Earlier this year, woke charity Oxfam came under fire for producing a video featuring an 'evil TERF' who looked somewhat like a caricature of JK Rowling. Oxfam eventually apologised and removed that section of the video, but it still featured this moment. A person wearing a 'protect trans kids' T shirt cheek to cheek with a young person who has undergone an elective double mastectomy

"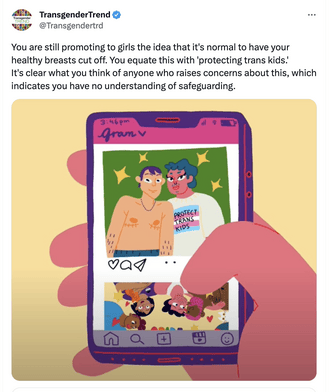 You are still promoting to girls the idea that it's normal to have your healthy breasts cut off. You equate this with 'protecting trans kids.' It's clear what you think of anyone who raises concerns about this, which indicates you have no understanding of safeguarding." tweeted Transgender Trend.
"Oxfam's re-edited video still highly problematic, normalising double mastectomy without any reference to medical due diligence or age-appropriate competency for trans-identifying children "trans kids" commented Shahrar Ali, former deputy leader of the Green Party.
It's Christmas 2022 and Stonewall have released their Christmas Cards. The pack of six features a card with three 'living their best life' Santas on the front.  One of the women is revealing her 'top surgery' scars. All I want for Christmas indeed.
In October 2022, the Telegraph ran a piece about the doctors selling top surgery to young girls on TikTok. One of these doctors is Irish ex-pat Sidhbh Gallagher. You can read my piece about her here.  The Telegraph article reported that UK clinic Cosmedicare had been sharing videos promoting elective double mastectomies and offering a 'streamlined' service for those who wanted to speed things up. The LGB Alliance is quoted as saying "young people are being radicalised into online subcultures" and that the online space is the "canary in the coalmine" for wider culture.
"In one video, they show their surgery dates whilst a backing soundtrack plays, "I wish that I could be like the cool kids"."
TikTok has rules against advertising but these are circumnavigated by 'sharing' TikToks that clients have made.
"It's not just Costa that is peddling breast removal to young women," wrote Julie Bindel, in the Sun newspaper. "The glamorisation and normalisation of this procedure appears to be coming from all quarters…"
It's quite clear that elective double mastectomy is being peddled as cool and edgy, not just to teenage gilrs but to pre-schoolers.
On the one hand we promote misogynistic men in make up and giant fake breasts, and call it kids' entertainment: on the other we use women and girls with elective mastectomy scars to sell products, and we call it liberation and 'queer joy'.
Aspirational- that topless feeling

Last month, Pink News ran an interview with 'non binary' Vic Parsons who had surgery four months ago.  "It's the little things that I notice. Sometimes, the feeling of a T-shirt pulling across my bare shoulder blades. A glimpse of my side-profile in a shop window. Walking around in just a pair of swimming trunks."
Ah yes. Easy to see why the freedom of going topless on the beach would have such an appeal for young women, especially when the press constantly runs articles marketing 'top surgery' as absolutely fabulous.
Across the Pond
In 2022 it was revealed that in the USA, between 2013 and 2020, 209 'top surgeries' were performed on girls aged 17 and under. Ten of these girls were aged 12 or 13. 
60% suffered from depression or anxiety and 11% had history of an eating disorder. In 2019 alone, one hospital in Oakland carried out seventy elective double mastectomies on children aged thirteen to seventeen. In 2013, they carried out five.
An October 2022 report from Reuters revealed, "In the three years ending in 2021, at least 776 mastectomies were performed in the United States on patients ages 13 to 17 with a gender dysphoria diagnosis, according to Komodo's data analysis of insurance claims… In 2021 at least 282 adolescents ages 13 to 17 received a 'gender affirming mastectomy'."
The figures for 2021 alone exceed the figures for 2013-2020 combined.
These figures do not include private procedures.
The image above is from US site topsurgery.net. The image on the left is a map of surgeons in the US who are willing to perform non-medical elective double mastectomies on women and/or girls. The images on the right, used to promote 'top surgery tourism' have been removed from their website.
In a 2022 report in the New York Times, Dr. Angela Goepferd, medical director of the Gender Health Program at the Children's Minnesota hospital reported that more nonbinary teenagers were seeking top surgeries.
Goepferd: "I'm not a lady… blah blah… I'm part of folx… blah blah… I'm a person. I'm a human," is herself non binary, quelle surprise.
Dr. Marci Bowers, the transsexual surgeon who famously performed genital surgeries on Jazz Jennings when Jazz was seventeen, president of WPATH, advocates for surgery for minors. "I just think we need more strength for our argument and a better political climate, frankly, in order to propose this at a younger age."
Jazz famously suffered from multiple complications following his surgery and continues to suffer from eating disorders and mental health issues.

Fundraisers are a surprising source of money for those who appeal for donations towards private 'care', with GoFundMe alone sporting page upon page of pleas from those wishing to undergo 'gender affirming' surgeries. Many of these are young women in their late teens, non-binary or transmac, begging strangers for money to enable them to fulfil their breastless dreams.
Kate Barker of LGB Alliance counted- according to her figures there are currently 8,649 girls appealing for money to pay for 'top surgery' on the GoFundMe site alone.
"Top Surgery doesn't have to cost an arm and a leg!"
This is a genuine joke from topsurgery.net, where you can check to find out how much your private surgery might cost you. Prices can range from as little as £2,100 in the Phillipines, rising to around £4,000 in Mexico. Moving up in price, mid-range seems to be about £7,000 and a top US surgeon can knock you back a cool £10,000. In England the cost can be anything from £6,000 to £10,000.
"How do you know if you are ready for top surgery?" posits Healthline. "You know yourself best. What a parent or guardian thinks, whether a healthcare professional agrees — none of that changes what you know to be true about yourself."
Spanish 'top surgeon' Dr. Fabrizio Moscatiello coaxes young patients to contact him with a Faustian devilishness.
"In Spain, the bureaucracy facilitates young English trans people. Wouldn't you like to have a bilateral mastectomy operation reducing waiting times?"
I was unable to establish if Moscatiello has performed surgery on minors.
Back in the UK
In the United Kingdom the minimum age requirement for such surgery ranges from 16 in Scotland, to 17 in England and 18 in Wales. In Ireland it is 16. NHS waiting lists are lengthy. But we have aeroplanes and bank accounts and parents willing to use them. Gallagher, for example, has operated on patients from the UK and reports that she performed 13 'top surgeries' on minors in 2021 alone.
Child Protection Resource cites the case of 15 year old 'Sam' whose family were able to take her abroad for mastectomy surgery despite Local Authority attempts to prevent them.  "…in all the genuine and reasonable concern about 'access' to 'gender affirming care' we now see a very stark two tier system opening up. If your parents are wealthy enough, then they can fly you to a country that does consider it lawful to remove the healthy breasts of a child in order to 'affirm' that child's gender… If children can routinely be transported out of the UK for surgery that is unlawful here, how soon will it be before pressure is applied on the NHS to carry out such surgeries?"
As for pretending that the wholesale celebration of 'top surgery' isn't getting through to its target audience in this country, oh we are way beyond that.
In February 2022 it was revealed in the Sunday Times that Scottish doctors had approved 'top surgery' for 51 trans-identified girls aged 16-17.
Children.

But it's a simple op, right?
'Top surgeons' might like to tell you that it's a walk in the park to have your breasts removed. Many don't even keep you in for observation overnight. Sure, there might be complications, but you get complications with everything, right?
Potential risks can include the following:
Bleeding and haematoma formation – a blood collection beneath the skin at the surgery site

Seroma – straw-coloured fluid collecting at the site of surgery.

Wound infection

Nipple necrosis or death of nipple

Loss of nipple grafts

Altered skin sensation

Altered nipple sensitivity

Anaesthetic risks including anaphylaxis

Deep vein thrombosis and pulmonary embolism
Blood clots, feeling tired and weak, bleeding from the wound, nerve pain, shoulder stiffness, swollen arm or hand, these are short term issues issues women may face after mastectomy. But there can be longer term issues too.
Let's have a look at what breast cancer charities have to say about post-op pain and complications.
Breast Cancer Now notes "Some people have pain in their breast, chest, arm or armpit for months or even years after they had surgery," if Paracetamol doesn't help they suggest your hospital team or GP may "suggest stronger medication such as antidepressants or anti-epileptic drugs, which have been shown to help with nerve pain." They also mention "phantom breast and nipple pain', pain that feels as if it coming from the breast that has been removed.  Cancer Research reports "You might have numbness, tingling or a shooting pain in your armpit, upper arm, shoulder or chest wall. This is due to damage to the nerves during surgery." 
Yeah, but these complications are really rare, right?
The American Cancer society reports that 20-30% of women who undergo mastectomy may suffer afterwards from Post Mastectomy Pain Syndrome, problems with nerve (neuropathic) pain in the chest wall, armpit, and/or arm that doesn't go away over time.
Despite Helen Webberley's snide dismissal of the seriousness of the operation, her observation that it's a completely 'routine and normal procedure', it clearly isn't.
Apologies in advance for the pictures below.
I've selected just half a dozen 'top surgery gone wrong' pictures here. There are very many more if you want to look for them. You can hear testimonies from trans-identified women whose 'top surgery' went wrong here, here and here. You want more stories? Go look. Like the pictures, there are plenty out there.
Other problems can ensue, even when surgery is successful and the patient has no regret, as 'non-binary' blogger LJ, who was previously "subjected to assault and cat-calling in the street and bars and clubs" because of her large breasts, reveals.
"I was worried that my chest was swollen, full of fluid, bruised, the nipples were gammy and awful. It looked horrible and not like the pictures of top surgery that I had seen. However I quickly learned that this was because people don't put the "yucky" pictures up.
"Recovery was sore, but the physical side was relatively easy. That's the bit that's documented, that's talked about. What isn't discussed is the rest of it. The way your body shape changes, the fact that now, without breasts, my hips suddenly seem so much more female. Or, most importantly, the fact that having top surgery does not suddenly mean people view me as any less of a woman."
I should add that, despite this, she feels the procedure was 'worth it'.
The COSTA Express coffee van
I hope the preamble has given some idea of why so many people are concerned about the promotion of elective double mastectomy being viewed as an aspirational lifestyle choice; used a marketing ploy to sell 'cool stuff' to young women and girls.

To say 'why do you care what other people do with their bodies?' or 'you're just transphobic' or 'it's just one coffee van, chill out, why are you so angry about it?' is missing the point.
It's another splash of Kool Aid in the woowoo cup. Telling little kids this is a healthy lifestyle choice and one to be celebrated is a lie. Clear your mind for a moment and breathe. Only a mentally ill person would want to remove healthy body parts. You know that's true. Should we really be enabling it?

The controversial image appeared on the side of a mobile coffee van and was evidently selected from part of a larger illustration, produced for Brighton & Hove Pride in 2022. I am proud and honoured to see bisexual representation there in the form of an octopus.

The piece was designed by artist Ashton Attzs (they/them quelle surprise) who also created this year's COSTA Pride logo. While it could be said that adverts for coffee are not directly aimed at small kids, Attzs has also recently designed artwork for popular high-end candy brand 'Candy Kittens'.
Attzs has also illuatrated a children's book. "An unmissable, new, illustrated non-fiction science book for 6-9 year olds" according to Amazon.  "Take a tour with award-winning trans non-binary emergency doctor and TV presenter DR RONX," gushes Goodreads.
I haven't seen inside the book.
The COSTA coffee truck somehow caught the zeitgeist and the press picked up on it, from the Economic Times News to the Daily Mail.
James Esses' early morning tweet on 31st July, tagging COSTA, has over 8 million views and nearly 9,000 retweets.
Dear@CostaCoffee, 
Could you kindly explain why you are glorifying irreversible surgery performed on healthy breasts of women for a mental health condition?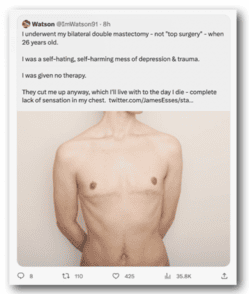 Detransitioner Sinead Watson retweeted Esses, posting a photograph of her own chest scars, writing, "I underwent my bilateral double mastectomy – not "top surgery" – when 26 years old. I was a self-hating, self-harming mess of depression & trauma. I was given no therapy. They cut me up anyway, which I'll live with to the day I die – complete lack of sensation in my chest."
You can read her story here.
"COSTA's trans mastectomy advert is an insult to women" wrote Joan Smith for Unherd, "Post-operative pain, rigid scarring, a profound sense of loss: none of these feature in the image of a "trans man" approved by Costa Coffee, which appears to treat the visible effects of surgery as a desirable fashion accessory."
Costa defended the decision to use the image, saying, 'At Costa Coffee we celebrate the diversity of our customers… blah blah… experience the inclusive environment that we create… blah blah…  feel welcomed, free and unashamedly proud to be themselves… blah blah… inclusivity… blah blah".
"I will never darken the doors of Costa Coffee again. I know many young detransitioners living with with bitter anger at gender drs who misled them, suffering numbness/pain in their chests after unnecessary mastectomies – and regret that they will never be able to breastfeed." tweeted Helen Joyce.
 The COSTA hypocricy

As Malcolm Clark observed, COSTA has recently opened a whopping 28 branches in Rhyadh, Saudi Arabia, where homosexuality, like adultry, is illegal and those caught practicing it can ber put to death, flogged or face lenthy custodial sentences. Saudi women are expected to wear an abaya (long black cloak) along with a Shayla  (traditional head covering) at all times when in public and penalties for non compliance can be severe.
What was that again, COSTA, about wanting your customers to 'feel welcomed, free and unashamedly proud to be themselves'?
Kate Barker of LGB Alliance called the advert "Ghoulish and grotesque."
Stephanie Davies-Arai told the Daily Mail, "It's caught up under the Pride flag, being inclusive and celebrating diversity but, actually, you are encouraging children to think they need to undergo unnecessary medical treatment affecting them for the rest of their lives.
Companies who want to appeal to young people are presenting trans as cool, as do the trans lobby groups. This is being pushed on children as if having a major operation is just the same as changing your clothes."
COSTA & disability
"Have you ever seen Costa include a wheelchair etc in their advertising?" asked Lina, one of the women involved in the strickering campaign.
"Many of us were caught out with gender identity ideology creeping into every walk of life but some of us are on red alert now. Imagery of young girls with double mastectomy scars being celebrated by a coffee company should not be normalised.
We will sticker you, use social media to spread the word and boycott you.
And we will talk to your customers.
Where is Costa's inclusion of disabled coffee drinkers in their advertising?"
A good question. Following Lina's train of thought I had a look online and learned that in 2015, Huffington Post reported that a woman had been asked to stop feeding her disabled son in COSTA because his feeding tube was putting another customer off her coffee. In 2017 a wheelchair user reported that she was refused service because she couldn't reach the card payment machine. In 2018 COSTA came under fire again when a young woman was unable to gain access to a COSTA branch because chairs and tables had been screwed to the floor, blocking the disabled entrance.  Other branches have been criticised for having heavy doors that wheelchair users find hand to move and counters that are too high for wheelchair users to comfortably order at. Staff in more than one branch have been criticised for tying up the red emergency cord in disabled toilets. Branches in Scotland
have been reported to have restricted disabled access.  In 2019 a woman with post-natal depression won a constructive dismissal and disability discrimination claim against COSTA. Also in 2019 a woman with a stammer was laughed at by COSTA staff in her local branch. In 2020 the Hotherton branch was accused of discrimination by a customer who visited with her 'severely disabled' friend. In Ireland in 2021COSTA had to pay out in a sexual harassment case against a manager. An Edingburgh branch came under fire last year for providing men with a single sex toilet but making the Ladies mixed-sex. The most recent accusations of discrimination came just a few weeks ago, when a young man with learning difficulties and his date were left unable to order food after staff were obstructive and unhelpful.
I mean I could go on, picking cases out of the hundreds thrown up by Google, but you get the gist. I appreciate that COSTA is a huge company with over 13,000 locations in the UK, but come on. All this, and not a single disabled person used in COSTA advertising?
Public response
Unfortunately for COSTA, the gerneral public was not impressed with the image.  A petition was started which currently has over 21,000 signatures. Critical artworks appeared on Twitter and everyone agreed it was Not A Good Thing.
Well, that's not exactly true. Helen Webberley of Gender GP, she who was temporarily struck off after prescribing testosterone to a twelve year old girl, thought it was a wonderful thing.
Webberley said the complaints "missed the point… blah blah… completely routine and normal procedure… blah blah… it saves lives… blah blah…right side of history."
Transactivist Fox Fisher, who claims, "It doesn't help to have the T latched on to LGB … it muddies the waters a bit because people start to think it's a deviant kind of thing," called the mural 'a breath of fresh air… a bold and beautiful work".
 Peter Tatchell, he who believes sex with adults can bring 'great joy' to nine year old children, scoffed that people were "obsessing over a cartoon on a coffee van."
Ugla Stafania (they/them) author of 'The Trans Teen Survival Guide'  compared criticism of the image to disrespect for survivors of FGM, which is a rather spectacular reach in anyone's book.
"This movement specifically targets the most vulnerable young girls who experience body image problems in adolescence," said Stephanie Davies-Arai of Transgender Trend. "Many girls hate their breasts at this age because of the attention it draws to them as young women . They are suddenly sexualised in a way that can make them feel self-conscious, embarrassed or afraid. The trans movement sells them the idea that having their breasts cut off is the solution. This is a terrible message to send to young girls and a very disturbing trend."
A job for Stickerwoman?
It shouldn't need to be said, but Stickerwoman is not a sort of solitary feminist Father Christmas with spectacular time-travelling skills, who can jet around the country – or even the world- putting up hundreds of stickers in one day. Any woman who puts up stickers about feminism, or challenging the gender cult, is Stickerwoman. There are thousands of stickerwomen. The first Stickerwoman I could find started her work back in April 1910. If you'd like to know more about Stickerwoman you could read my 2020 piece "The Incredible Adventures of Stickerwoman".
One Stickerwoman sent me this on Wednesday, taken outside her local branch of COSTA. She told me:

"(I posted it) because I'm sick of corporations who don't care about anyone using teen girls' self-hate as a money making tool whilst saying it's because they care and want them to feel included," she told me. "And I'm sick of seeing them use happy cartoons to hide the reality of self harm. I want them to know that some of us see what they are doing and we say no."
Haringay Resisters and Mother Superior both tweeted that some of Birdy Rose's stickers, including one reading 'This business is proud to say we don't care about women" had made an appearance outside branches of COSTA in North London.
On a rainy Thursday afternoon in London, a group of women met with a plan to sticker as many COSTA coffe outlets as they could in one day. Their stickers used the design below, which anybody is welcome to use to make cards, posters or stickers of their own. The verse written around the reimagined logo is by performance poet Aja.
The women met in town and, after planning a route, managed to place over a hundred stickers in upwards of 40 COSTA outlets in the city, including several supermarkets selling COSTA coffee and service stations with COSTA machines.

"The weather started out ok," one of the organisers told me, "but later in the afternoon, as we were walking along Victoria Embankment, it began bucketing it down. We had umbrellas and waterproofs, but we all got wet through anyway. Even some of the stickers got soggy! We had maps of where the various COSTAs are around central London, but a few of them had closed down or been taken over by other coffee outlets. One person would place a sticker, then another would take a photo. Between us we managed to sticker about 40 outlets."
Another stickerwoman from the group told me:
"I was keen to have this opportunity to demonstrate my objection to Costa's use of the image of a young woman who has had top surgery. I am horrified by the normalisation of such surgery for troubled young people who are vulnerable to the message that they are 'born in the wrong body' .
We are beginning to see the consequences of this in the heartbreaking stories of detransitioners. I cannot understand how the protection of children and young people has been so easily cast aside. How can it be seen as 'cool' to promote this harm and used by organisations and corporations to 'virtue signal' and use this to add to their profits ? I won't be buying coffee from Costa any more."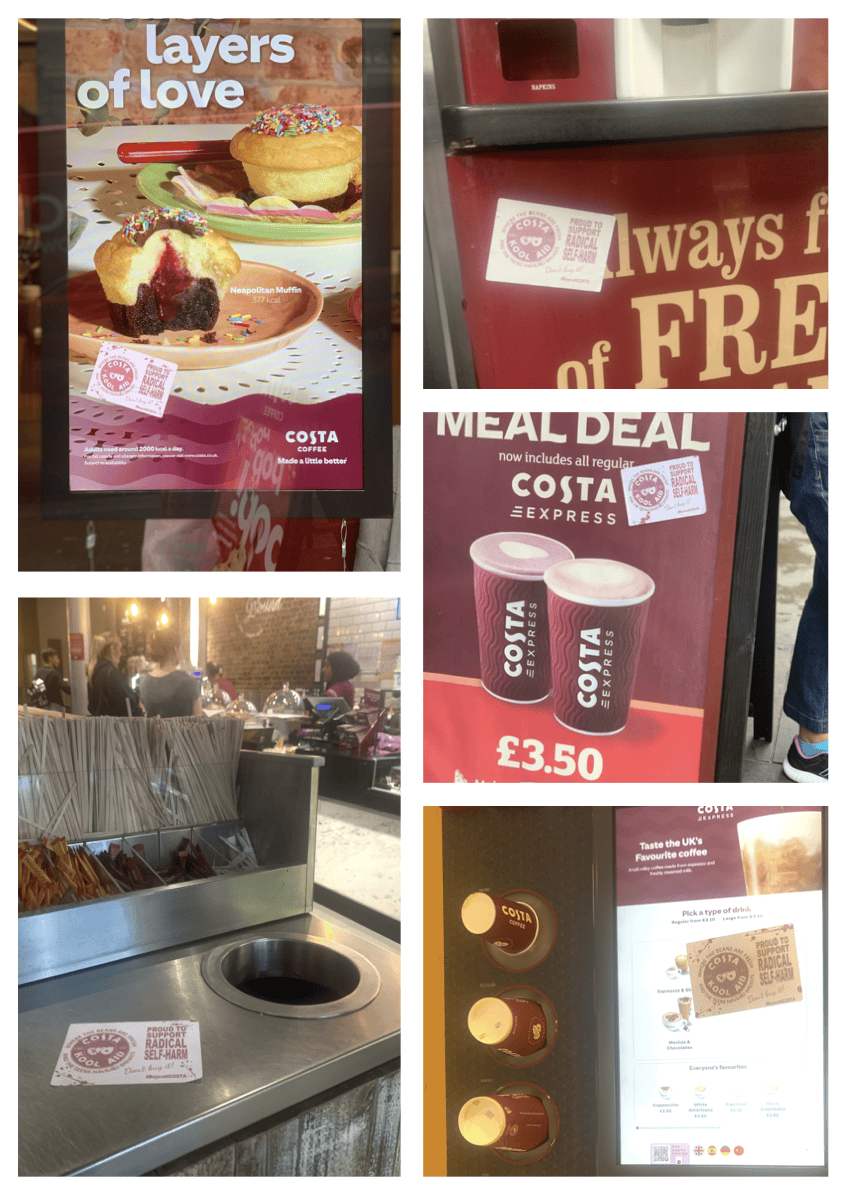 Another woman tfrom the London group said:
"It's hard to find words to express my disbelief when I saw the image of the 'trans man' with deep scars where her breasts had been that Costa is using to promote sales of coffee. How could this terrible image possibly help them from a corporate point of view? How far we have come as a society in our journey into lunacy!
With this in mind I was delighted to take part in the stickering of a number of Costas in London today which was aimed to get the message over to Costa staff and customers that far from being impressed with this latest attempt at virtue signalling, many customers will be disgusted."
"Seeing the image of the cartoon girl with double mastectomy scars advertising Costa Coffee, advertising irreversible damage, advertising their affliation to this cult of transgenderism; I felt that I ought to act," said Eve. "Our beloved Costa brand has had a US takeover and a takeover of our values, importing this agenda to our shores. Costa is everywhere on this Isle, and is therefore sending its unsavoury message to girls in nearly every town and city, that our young females are not good enough to be in their own bodies. I want to spread the message that Costa are wrong and they need to know that we, I, do not agree with this messageof self hate. This is the reason I took to the streets of London, to sticker my opposition to this unscientific, glorification of female mutilation."
COSTA on the coast
Sticker protests didn't just take place in London. Women in other parts of the country made their own and put them up in and around local COSTA branches.
One man even made himself a T shirt!
Stickers were sighted in various other parts of the country, including Haywards Heath, Newhaven and Brighton along the South coast. In Truro, in Cornwall, handwritten stickers appeared on cups in the local COSTA , reading "Boycott COSTA coffee: promoting self-harm in girls".
Laura, from Standing for Women Locals, told me, "Standing for Women has been speaking out about the harms of gender ideology and the damage that it has caused to a generation of young women. It seems the anorexia that plagued my generation has been replaced with self harm and the removal of healthy breasts.
"As a woman I know the confusion of human female puberty, as a girl I didn't know anyone who liked their changing bodies and the attention that came along from men. To encourage girls and women who believe the way to solve their psychological pain is to cut their breasts off is horrific.
Transwomen want sexual attention, these girls and women are wanting to escape it. This is a women's issue, not a trans ideology one.
Standing for Women Locals wanted to help highlight this awful trend that big Pharma is making a fortune from and join in with this eye-catching sticker campaign."
Another Standing for Women Locals member explained why she had become involved in her local group's protest in Sussex.

"The rise of gender ideology is ever present in the UK but especially in Brighton. Shops, banks, bars, schools, the NHS and police, all clambering to be seen to be the most progressive with their inclusive flags and gain pole position at the altar of the church of gender ideology. 
The erosion of sex-based rights for women and girls and evaporation of safeguarding is why I'm in this fight against the men's sexual rights cult that is gender ideology. 
These gender-distressed girls need evidenced-based care to emotionally support them, not mutilating surgeries and wrong-sex hormones that will make them lifelong medical patients and line the pockets of big Pharma. The treatment of detransitioners particularly upsets me, as they are outcast by the gender cult. I'd like them to know that they are welcome in many of the women's groups that have sprung up over the last few years.
The UK is waking up slowly to the horror that gender ideology indoctrination is causing in our schools and hospitals. How dare they tell a child that their body is wrong and it needs modifying. These virtual signallers need to start thinking of a reason why they promoted puberty blockers, cross sex hormones and surgeries to alleviate emotional distress."
Counting the COSTA
Anyone saying 'it's just one coffee van, chill out, why are you so angry about it?' is missing the point. It's another splash of Kool Aid in the woowoo cup. Telling little kids this is a healthy lifestyle choice and one to be celebrated is a lie. Clear your mind for a moment and breathe. Only a mentally ill person would want to remove healthy body parts. You know that's true. Should it be enabled?

It's interesting to note that while TRAs bang on about 'girl dick' all the time, we never hear mention of 'boy tits'. Men are not removing their penises because women assault or mock them in public places because of their appendage, which is easily tucked away out of sight.
After my daughter desisted, she underwent a minor assault on a bus the first time she went out wearing a tight-fitting T shirt. I've mentioned before the story of the 12 year old who told me she was wearing her dad's outsized fleece hoodie, "because I'm sick of men staring at my tits."
These are the issues we need to address. The desire to remove healthy body parts is not healthy. The belief in a young woman that she is something she is not, whether it is 'non binary' or a man, is not healthy. Telling her that breast removal is harmelss and a 'routine procedure' which will solve her problems is not 'first do no harm' care.
We are facing an epidemic of young women trying to identify out of womanhood.  The last thing we need to be doing is cannonising mentally-ill girls and women who are willing to chop their breasts off in their flight from womanhood.
And yes, that includes aspirational cartoons on coffee trucks.