Gilding the Lily – visit my shop

Welcome to Gilding the Lily

Welcome to my shop, where no two pieces are exactly the same!
There will always be a difference: it might be the size or the colour, or a tiny extra detail on the arm or pocket: but there will always be something to make your piece unique.
Commissions
If a product you like has sold, or you'd like it made up in a different colour vinyl or size, I can put any of the designs onto a black hoodie or black T shirt (standard or shaped) in a variety of colours. Drop me a message via the contact form and we can talk. You will need to pay in advance for commissions.
Everything is  produced, printed, pressed and packed, start to finish, by me, in my home workshop.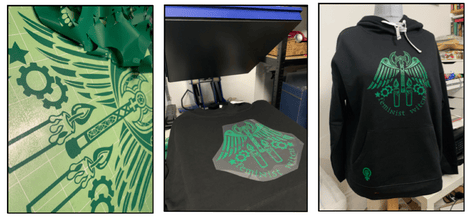 My designs are cut onto sheets of vinyl by a vinyl cutting machine, I then 'weed' them by hand to clear the empty spaces and finally use a heat press to emboss the image or text onto hoodies, T shirts, bags, purses, and up-cycled jackets.
I take PayPal & P&P is free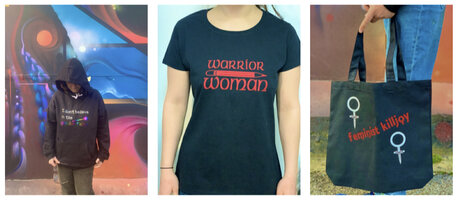 You can start looking at cool stuff to gild your lily right away, or you might want to know a bit more about my recurring themes, sizing & care instructions.
Recurring Themes
the labrys (

λάβρυς

)
The labrys (λάβρυς) is a symmetrical double-headed axe, often associated with ancient Greece goddesses and, in Cretian myth, the beginning of creation, although representations have been found all over the world.  The labrys has long been a feminist symbol, also associated with the Amazons of ancient Sythia, a female-only warrior culture, and adopted by lesbians and feminists in the 70s.
These labryses symbolises female strength, power and truth. They incorporate the 'Venus' symbol and the XX (double X) Some sport stars or a DNA strand running along the handle and others are entwined by a snake: in many cultures a symbol of female creative forces or of the power of the goddess.
Crossed sticks of dynamite, forming an XX for female chromosomes; comic-book bombs- often with hearts in the middle- and candles symbolise the power of light and thought to reveal the truth, and the wings are to raise us up.

The slogan 'vincit omni veritas' (truth conquers all) features on many of my designs, as do the words 'feminist', 'heretic', 'radical' and 'witch'. And these 'woman power' symbols. And, of course, dinosaurs- & the wonderful Magdalen Berns.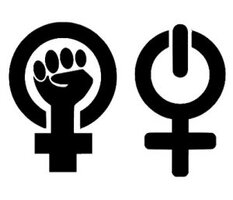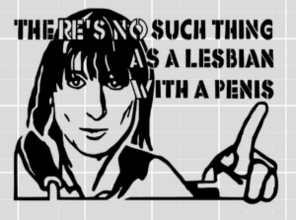 I take PayPal & P&P is free
Sizing & Care
A guide to chest sizes is included with each T shirt as different styles have different fits.
Hoodie sizing
The hoodies are free size, which means they are all roughly the same size, and should comfortably fit sizes 8-18. The women in the pictures below are wearing the same hoodie.  The hoodies are soft, medium-weight & good quality. The white neck cord is removable. There is a single front pocket in the middle. The ribbing at the bottom and at the cuffs is spacious.
The hoodies vary very slightly in size, but measure roughly 60cm in all directions when laid flat, across the bottom, chest & from nape to bottom at the back.
To keep it simple, you don't pay anything extra for postage and packaging to mainland Britain.
I don't accept orders outside of mainland Britain without prior consultation, but do email me. Postage costs will put up the price of items that are sent outside this area.
Returns by prior arrangement only. Buyer pays postage on all returns, which are via a PO Box address.
Care
It's always a good idea to wash clothes inside out, they last longer that way (so my old gran told me) and vinyl designs are no exception to this rule. The designs on my Ts & hoodies are perfectly happy to be machine washed at 30 or 40 degrees.  The metallic designs are fine to machine wash inside out on 30 degrees, I'd avoid hotter. Hang your garment up to dry promptly to avoid creases.
secret magic care tip
A really good care tip for any T shirt with a vinyl design is to iron it – with a piece of baking paper between the vinyl and the iron– once in a while. Heat the iron to hot, & tear off a piece of baking paper that will cover the whole design. Lay the garment on something flat (a flat, not ribbed, ironing board or a wooden surface covered with a pillow case) and carefully move the iron firmly over the surface several times, checking the result as you go. DO NOT FORGET THE BAKING PAPER! Vinyl really doesn't like being ironed without it.
Ok, time to shop!
Showing 1–32 of 70 results