Still, after all these years, we're having to remind people that men cannot be women, that a woman is an adult human female, and still the cries of 'hateful transphobe' are addressed to those of us who dare to point it out.
Far from subsiding, the madness continues: this week some bloke claimed to be a mum in a new item on TV & when women objected a whole load of people got up in arms defending his right to be a mother. Turns out when he's not shopping for nipple clamps, he's 'breastfeeding' his partner's baby. You couldn't make it up, and I didn't.
In other news, a bloke in a dress, who's served decades in prison for violent crimes, stood up at Trans Pride and told his audience "If you see a TERF, punch her in the face!" His audience roared with delight. An MP spoke up in his defence. Police have done nothing.
What's to be done in the face of such madness? Well, sometimes actions speak louder than words – or tweets- and sometimes you need to get right back to basics. And the original 'adult human female' campaign was both basic and innovative. Billboards, stickers, T shirts, flags. White text on a black background. And, oh, how it rattled cages!
This weekend a group of women got together to love bomb central London with Adult Human Female postcards. Somehow, they had managed to get their TERFy little mitts on a whopping 2,400 postcards, and armed with little more than these and hastily printed maps, they decended on an unsuspecting city in the grip of a heatwave.
Their objective? To leave Adult Human Female postcards in as many of central London's libraries, art galleries and museums as possible, taking in postcard stands and other opportunities along the way.
"We started off by checking which museums and galleries were open," one woman told me. "The museum of London is closed at the moment, so we couldn't go there. Some galleries you have to pay to get in, so we needed to check which had gift shops that you could access without buying a ticket. You can't get into the gift shop at Buckingham Palace without buying a tour ticket, for example. We needed to work this stuff out in advance.
One woman sorted out a little map for each group, so we all knew where we were going. We worked in groups of two and three. Then, toughest of all, we had to find a time that the majority of us were free. You know the phrase 'herding cats'? Trying to get this organised was a bit like that. But we did it!"
In the end, in the space of 24 hours, scores of museums, art galleries, libraries, card shops and postcard stands throughout the capital were treated to some little extras.
"One of the things we did was to ensure that we didn't just place postcards where they could be seen. In the galleries and libraries, we'd leave some in prominant places but we'd also slip others inside books and tuck them in the middle of groups of cards.  Some of them won't surface for weeks or even months."
While the women were keen to place postcards in card shops and libraries, the bigger picture was hitting our art institutions. All in all they covered twenty five of London's top art galleries and museums in the space of 24 hours. Here are testimonies from some of the women involved (names changed to avert death threats)
Isabelle's group
Isabelle's group left postcards in gift shops at the London Eye, the South Bank Centre, the Hayward Gallery, the National Theatre, the Tate Modern, St Paul's Cathedral, the Tower of London and the Tower Bridge Engine Room.
They also left cards in a shop under the OXO tower and at the Urban Express Shop at London Bridge.
"While I was walking round London with my son I keenly felt the weight of the postcards I was carrying." Isabelle writes.
"I saw so many women and girls whose rights have been trampled on by the hard trans rights activists who don't care one bit about any of them. I am horrified by men who say they identify as women, want all the rights of women, want to take women's places in sports and enter women's toilets and changing rooms. They aren't women and they have no idea how it feels to be a woman because if they did they would understand how violated women feel by this.
"I looked at my son who is a gentle and complicated boy. Being neurodiverse he is often confused about who he is and my role as a parent is to guide him through the normal trials and tribulations of a boy growing into a man.
It pains me to think that in the wrong hands, those with their own agenda, those who care more about their ideology than my child, would push him towards body mutilation and sterilisation.
All my children are who they are, and are perfect as they are, in the bodies they were born in. Women are women and men are men. There is no flexibility in this and we need to protect our children from this toxic and dangerous ideology."
Jessica's Group
The second group left postcards at the National Gallery, National Portrait Gallery, St-Martin-in-the-Fields and the Institute of Contemporary Arts.
"This was far from my first time, so I was feeling quite confident." writes Jessica.  "There's always a slight rush of adrenaline during the bag checks – will they spot them? – but security always just glance in my bag and wave me through.
The gallery shops, in particular, were all packed. The advantage of that is that staff are less likely to notice you – the tricky part is not getting too much interest from visitors. I waited for the brief moments when nobody else was looking, whipped my cards out, snapped my photos and strolled out, unable to help smiling.
When I was doing the ICA postcard rack, they had one set of closeup pics of a bloke holding a frozen chicken over his naked bits. Only occurred to me after that it was probably meant to be a pun on cock. If they think our cards are offensive after that they've got a right nerve!
Sitting outside in the sun, I shared my pics with the group and admired the ones already up. There was a wonderful sense of comradeship and shared triumph in today's action – similar to the feeling that comes with finding a feminist sticker left by someone else. A sign that we're not alone."
Julianne's group
Julianne's group visited the John Wesley Museum, The Barbican and the Guildhall.
"We started our postcard drop at the John Wesley Museum. Here, we made sure to put an Adult Human Female postcard on display on the metal stand that the preacher used to spread his message at Speaker's Corner as well as stashing some more on his pulpit and behind greetings cards in the shop.
Next stop was the Barbican Gallery which was a little more unnerving. Instead of the friendly volunteers at the John Wesley Museum, the shop assistants were serious-faced and sporting rainbow lanyards.
Nevertheless we managed to put quite a few postcards on strategic display. One set was placed under a notice stating 'this is not a'; another was above Betty Friedan's 'The Feminine Mystique', and a third clutch nestled into a shelf near a book entitled 'Women who Dared'.
We made sure that there was also a bunch of postcards in the same cubby hole as a book entitled 'Whatever Happened to Queer', and by Margaret Attwood's 'Essential Guide'."
"On the way to our final destination we stopped at the Globe pub and took a very fetching photo of a postcard pinned to the menu by a portrait of a pensive looking lad. Perhaps he was musing on his feelings about TERFs.
The final drop was the most difficult because as soon as we walked into The Guildhall we noticed that the tiny shop was surrounded by staff and security guards and I doubted we would be able to shoehorn any postcards at all in behind the greetings cards. But this was accomplished and duly photographed, completing our day of shop dropping."
Marley was also in this group. She writes:
"Our merry band assembled at the meeting place at the allotted time, rearranged the tables, and when we all had seats the planning began. Circles were drawn on maps, teams formed and routes to our allotted targets discussed and agreed upon.
We were ready!
On route to our first stop my team discussed 'what if"s. We decided that if women of a certain age are largely invisible we could use this as a cloak of invisibility.
"They'll never suspect a thing," we chuckled. Happily this proved to be a successful strategy, the placers placed and the recorder followed behind and snapped their work.
Then we scarpered! 😉
We took a break for refreshments – of course we did – uploaded the images, looked at those already uploaded and wished we could be a fly on the wall when either they were discovered by the staff- or better still, taken to the till by someone who wanted to buy one.
We can dream!
Being part of this action was a giddy mix of resistance, trepidation and delight that went like clockwork, thanks in large part to – let's call her Brains – who conceived, organised and rallied us into action.
You know who you are! 😉
A final muse. In time, hopefully not that long away, the Woman Adult Human Female postcard will be proudly displayed on the racks of many of the places we – visited 😉 Women before us worked together, we're still working together and we will never, never, ever stop. In short:
It was Terftastic!
"I have taken part in many political actions as a radical feminist in the 1970s and 80s," Debbie told me. "Then later as a disability rights activist. I've been threatened with arrest by the police as a mental health campaigner, even being escorted out of the Houses of Parliament by a police officer on one occasion. Sometimes I was a bit nervous before an action but not too much since most people don't hate disabled people.
The postcard action was different. There is a prevailing belief that everyone hates 'TERfs'; we are all familiar with the threats and name-calling. I am open about my views in real life and on social media, I can be since I'm retired, nonetheless I went to the galleries with a certain amount of trepidation. It felt sad because despite being very much working class, I was brought up visiting art galleries, always feeling at home in them. I studied fine art in the 1970s when postmodernism was everywhere, then later art history as a post graduate student. Recently I have felt estranged from art institutions as they have been aggressively pushing regressive anti-women and anti-lesbian gender identity ideology. This was so apparent in the Barbican gift shop, filled as it was with faux progressive literature; purged of anything radical.
Well, guess what … the real progressives reclaimed the galleries on Saturday. In the event there was no fear, it was both fun and cathartic. We felt so much confidence by the time we had finished. These galleries now belong to us again. When the curtains were pulled back, all we saw were a load of wide-eyed kids at the tills, completely unaware of what they were peddling. We'll be back for sure; I no longer feel estranged."
Sarah's group
Sarah's group left postcards at the Imperial War Museum, the TATE Britain and several libraries.
"It was my first time working in a grass-roots feminist action such as this and it was wonderful," Sarah told me.
"Seeing women utilising all of their skills, cunning, humour, logistical nous (we had someone produce maps showing clusters of venues which suited our requirements- free entry, gift shops, required opening hours!) and the thought and passion that went behind it was incredible.
I was frightened of being caught, who wouldn't be, but all we were doing was popping postcards with a dictionary definition of the word woman in to various places across London.
I mean, seriously, 5 years ago we'd have been seen as lunatics spending time stating the obvious yet now we are bigots and can be arrested? "
Sarah also left a postcard inside each 'A' level Biology textbook in the Imperial Library.
"We were going off to put our 'woman' cards in the racks of the gift shops in firstly the Tate Britain shops and then on to The Imperial War Museum," writes Gail.
"As two middle-aged white women, the security guards waved us through with no bag check- though finding a large pack of postcards stating the truth that women are adult human females may have caused no alarm. We took the lift for a saunter through the galleries to the upper level shop where I was posting and Sarah was taking the photographs. Discretely, bold as brass and cool as a cucumber, I slipped some single cards into displays where a book was about modern lesbianity (presumably not the dinosaur kind 🙄) or mentioned women artists and then some stacks of 20 or so into their postcard displays.
I felt calm, purposed and utterly unabashed and unashamed. The cards stood out in the arty racks. By the time we left, my first posting had gone. Maybe taken by an appreciative customer. It was easy to replace it.
"There were a few more secuity/staff in the second shop and a display of women artist giftware. With the Tate lanyards man busy on the till, a healthy quantity of cards were swiftly and calmly dispensed into the displays and racks.
Pimlico library was close enough to pay a visit, so we took a short bus ride. There wasn't a rack of stuff that made the cards feel 'obvious' so the whole "pride" stand was suitably tucked with cards and Billie-Jean King's autobiography 'All In' recieved a new bookmark. However, as it hadn't been taken out since 2019, I would guess women may be extinct as a sex class by the time the next borrower comes along… Not one of the pride books had a borrower stamp or date either. Perhaps the TRAs aren't regular readers… 🤷‍♀️
To The Imperial War Museum! Entry shops x 2 and a larger shop in the lower ground were our targets. Here, my favourite spot was The Future is Female display. I expect that when women took over from men doing all the jobs previously done well enough by men, the idea of what future female looked like was very much about the adult human female, not men in lipstick and pornographic style underwear claiming to "feel like women". I hope the customers interested in a mug, keyring or tote bag appreciated the definition of woman being at hand.
In the grounds of the museum is a sculpture to mark the loss of Soviet men and women in WW2 and at its base a bouquet of fresh-ish roses, and a note commemorating a recent loss. I hope I paid no disrespect to this woman by my placing my last cards alongside the flowers and note."
Carrie's group
Carrie's group visited the British Museum, the Foundling Museum, the Wellcome Collection and UCL.
"Who would have thought it would come to this," writes Carrie, "Women coming together to spread the word, ensuring that the definition of a woman is not eradicated, by leaving 'reminder' postcards all around London.
It was a real test of character as it was a very hot day AND flying ant day AND Graduation Day for UCL students- students if you're reading this, you looked amazing.
We were pacing around Bloomsbury depositing cards in museums, galleries, libraries and shops.Did you spot one?
Or two or three?
A male employee in one well known book shop pounced when we dared to leave cards in a well known book of ideology~I suspect this book is monitored closely as it's probably targeted on a regular basis~however we worked as a team and cards were left in other books.
So ha!
It was fun, exhilarating and exhausting!
Carrie's partner in crime was Anna.
"I was excited when I set off for our meet up in Victoria," enthused Anna. "Very pleased to see how many women had come and felt really uplifted by the energy of the group.
Having partnered up with Carrie and been given an area with suggested targets, we set off. We headed to Bloomsbury on foot and made the British Museum our first hit. We had to queue but got in quite quickly, we really blitzed it.
While doing our thing in Waterstones bookshop a worker spotted me putting cards into copies of Shon Faye's book. Beardy bro did a "don't come here and do that again" and removed 2 cards. Fortunately he hadn't seen Carrie filling Elliott Page's books or noticed the others I had tampered with!
After a few hours and several targets later we called it a day: hot, tired and feeling happy with our achievements we headed home. Lots of laughter along the way, great company and a great day's action. Kudos to all."
Kathy's group
Kathy's group did the V&A, the Science Museum & the Natural History Museum.
"Who would have thought that leaving innocuous postcards stating the bleeding obvious would be so thrilling?" observes Kathy.
"But that just speaks to where we are in this post-truth world! At the V&A they were very quick to remove our postcards from the postcard racks but at the Science Museum and The Natural History Museum, they stayed up much longer. One of my favourite moments was in the exhibition at the Science Museum (insert name!) It was about human development and when we found an exhibit of piles of large white books called simply "x chromosome" I felt so excited I nearly squealed with delight!
Naturally, these books were crying out for a dictionary definition of the word woman and we obliged. It was fantastic to see our striking black postcards remain in place in a mostly white room as we moved amongst this exhibition and under the nose of the security guard.
At the Natural History Museum there was an exhibition called Human Evolution which was another lovely gift for us.
And when we saw that some of the exhibits even contained the words "adult female" in their titles, without a word to each other, just a gesture and a look, we knew what we had to do!
It was late in the day and we had already walked around 1o kilometres but another burst of energy saw every female skull, tooth and mandible paired with an Adult Human Female postcard.
I wondered how they can say with such accuracy what sex these these early humans were? They didn't have pronoun badges 50,000 years ago.
Jo was also in Kathy's group.
"We had a really enjoyable afternoon visiting exhibitions and leaving our postcards," she writes. "The first place we did was the V&A. We'd planned that Kathy should place the postcards and I should photograph them. We started off in the gift shop but a staff member removed the first batch of postcards before I could even get a photo! I caught the tail end of his conversation with a colleague "… it's a whole campaign, they have postcards and stickers and billboards… we should keep these in case they're needed as evidence…" I'm pretty sure I caught the phrase 'anti-trans' as well, sadly, but they didn't know it was us.
We were undaunted though, managing to leave postcards placed halfway through piles on several displays, so they weren't immediately visible. I love to think of the cards surfacing weeks later when they come to the front and somebody tries to buy one!
My favourite bit of the V&A is the wonderful hallway of statues. Many of them are of women and some of them are even clothed. We left postcards neatly placed on the plaques by most of those statues. Then we went and had a paddle in the water feature before moving on.
When we visited the Natural History museum, I especially enjoyed placing postcards by the toy dinosaurs, a reference to politician David Lammy's observation that women were 'dinosaurs' who wanted to 'hoard' their rights.
We mainly focussed on the gift shops where adults would be shopping but couldn't resist placing a few in the toy area and in front of certain books.
I think this action was really important. People blindly accept the 'new religion' of gender identity; they need to be given permission to challenge it; to realise they aren't alone in questioning the 'gender agenda'. Planting postcards is a little act of rebellion- I mean who could really disagree with what's written on them? I've heard TRAs call the postcards 'a transphobic dogwhistle' and it seems that acknowledging biological reality is now genuinely considered the act of a genocidal bigot, which is absolutely nuts- gender ideology has been around for five minutes in the great scheme of things, yet TRAs are 'transing the dead', pushing for the medicalisation of gender non-conforming children, altering documents and doctoring photographs… it's crazy.
Several threads on Mumsnet suggest the postcards are being noticed already, which is great. In a few more years when the genderwoowoo has burned itself out and everyone is waking up and wondering what the hell happened, I will indeed get a small grain of satisfaction out of knowing I did my bit to expose it for the sexist, homophobic nonsense it is.
Postscript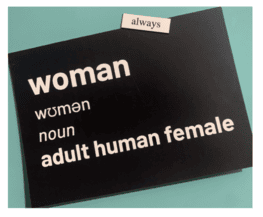 The 'adult female postcard action' took place in London over the weekend of 9th-10th July 2023 and covered over 25 museums and art galleries, half a dozen libraries and scores of tourist shops, bookshops and charity shops.
The dozen or so women involved reckon they planted 2,400 postcards in central London over the weekend and 90% of those were placed on the Saturday. Libraries included Pimlico, Dulwich, Camberwell, Grove Vale, John Harvard and Brixton.
There is no law to say that you cannot leave a postcard in a public place.
You can buy Adult Human Female postcards from the 'Standing for Women' store.
These are the museums and galleries that now have Adult Human Female postcards in their collections:
The London Eye, the South Bank Centre, the Heyward Gallery, the National Theatre, the Tate Modern, the TATE Britain, St Paul's Cathedral, the Tower of London, the Tower Bridge Engine Room, the National Gallery, the National Portrait Gallery, St-Martin-in-the-Fields, the Institute of Contemporary Arts, the John Wesley Museum, the Barbican, the Guildhall, the Imperial War Museum, the British Museum, the Foundling Museum, the Wellcome Collection, UCL, the Science Museum, The V&A, the Natural History Museum