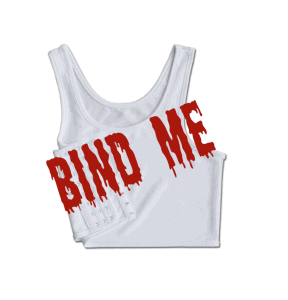 So wrote one girl on receiving her free binder from the MORF Binder scheme:
MORF is a Manchester organisation, established in 2005 for the purpose of helping trans-identified females to support and meet each other. In 2011 MORF started the MORF Binder Scheme 'which aims to provide free binders to all transmen who request them'.  In 2015  their website claimed to have provided 'over 150 free donated binders' to applicants.
To receive a binder you simply email MORF and they email you back a catalogue. You choose a binder and if it's still available they send it to the name and address of your choice, in plain wrapping. You pay only £3 postage.

Of course, binders- always modeled by disconcertingly young women- are available cheaply now on both Amazon and Ebay, although to order one you need an Amazon or Ebay account and a credit card.  There are all sorts of reasons why a child might find it hard to order a binder this way. The name of the company would come up on your, or the account/card owner's, statement or invoice for a start and writing on the parcel might even give away what it contains. Also, and more importantly, these 'binders' are pretty crap and ineffective. The MORF binders are the real McCoy.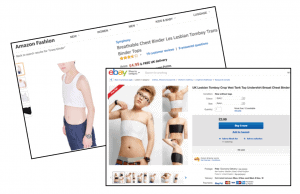 It struck me as a little unprofessional for an organisation spotlighted by the LGBT foundation to be sending out random free binders to anonymous applicants. What if the recipients were under age? What if they had pre-existing health conditions?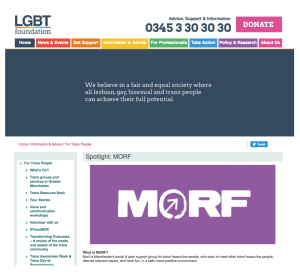 Would MORF send a binder to, for example, an asthmatic trans-identified 14 year old girl whose parents didn't want her to wear one for health reasons?
I had to find out, so I created Ryan Fletcher and wrote to MORF. (Spelling and grammatical errors are purposeful.)
MORF replied ten days later:
So it seems that being a 14 year old asthmatic would be no impediment to getting a binder from MORF. I wondered if perhaps that part of my email had been overlooked, so when I hadn't heard back from X I wrote again; this time mentioning that I'd been recently hospitalised for some tests:
I heard nothing more for several weeks and wondered if MORF had rejected Ryan as unsuitable, but on 14th May I received this email & the catalogue. The catalogue was 20 pages long (see 3 pages below); accompanied by a form to fill in and post back to MORF, who aim to post out binders within a week.
In the end, I didn't follow through with ordering a binder from MORF.  I knew I would be writing this article eventually and I didn't want to use my own address for obvious reasons, or put anyone else at risk by giving theirs.  (Thanks to the people who offered, though!)  I felt my point had been made.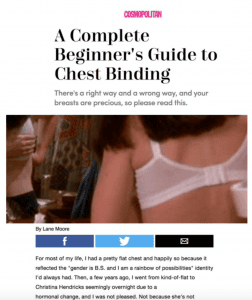 So what's the problem with breast binding?  When mainstream magazines like Cosmopolitan run articles on 'how to do it' and many UK schools have official policies in place to help girls in their endeavours, you could be forgiven for wondering what all the fuss is about.
St Ethelbert's School in Bolton shares a policy which suggests to teachers that if girls who wear binders appear faint 'short breaks could be offered discretely'. What next? Official  bathroom breaks for bulimics and cutters?  Bowls to vomit in and fresh blades at the side of the gymnasium?  What's the big deal? After all, it's all fine if it's done properly, right?
Schools in Manchester, Brighton & Cornwall all seem to be backing it.
Brighton & Hove 'Transgender Toolkit'
St Ethelbert's 'Safeguarding in Education' policy.
Cornwall schools Transgender Guidance
In a recent survey involving 1,800 women who bound their chests, 97% of respondents reported at least one negative outcome from binding.
The Top 4 symptoms reported were

back pain
overheating
chest pain
shortness of breath
Some of the other symptoms reported included: posture problems, itching, shoulder pains, rib fractures, spine problems, shoulder joint popping, numbness, headaches, fatigue, weakness, dizziness, heartburn, abdominal pain, muscle wasting, digestive issues, breast changes and tenderness, scarring, swelling, acne, coughs &  respiratory infections.
Harmless? It seems not. But the most surprising conclusion of the above mentioned survey was this:
"Commercial binders were the binding method most consistently associated with negative health outcomes"
So. Tell me again about that 'safe' binding?
This photo is of an adult woman who has suffered terrible physical deformities from binding.  When I posted it on Twitter earlier this year several people responded by saying the damage had only happened because she hadn't done it 'properly'.  That word again. How can you bind 'properly'? General consensus seems to be 'don't use cling film, duct tape or ace bandages. If you use a proper binder, you'll be ok.' The survey suggests otherwise.
But what do I know?  I don't know how it feels. I've never felt the need to bind, and I have never bound my rather substantial bosom in anything more restraining than a 'firm support' Marks & Spencer's sports bra adorned with tiny and wholly unnecessary white flowers. (Not my first choice. It was the only one that fitted.)
I wished there was a way to hear what young women and girls who bound their breasts really felt about the discomfort involved. If only there was some way of tapping in to their true feelings, not the usual social media bravado and swagger of the teen & early-20s transmen… and then I thought of 'Whisper'.
"A secret is not something unrevealed, but something told privately, in a whisper."               Marcel Pagnol
'Whisper' is a completely anonymous social networking app, started up in 2012. Users post 'confessions' by writing text on a picture chosen from Whisper's gallery of pictures, and share them with other users. Whisper is valued at $200,000,000 and has more than 30 million monthly active users, with the average user opening the app 20 times a day.  Although users are supposed to be 17 or over, there is no checking process. 90% of users are under 24, it is estimated that 4% are under 18. Founder Michael Hayward had this to say about Whisper's success:
"You are who you are when no-one else is looking. Anonymity is a really powerful tool."
Webwise describes Whisper as:
'a great space where young teens can release their built up emotions'.
and 'Fortune' magazine had this to say:
"Whisper became a viral hit in 2013… Young people who felt intense pressure to project a perfect appearance on social media outlets like Facebook and Instagram appreciated that Whisper let them express their true feelings anonymously."

                                                                                            Fortune Magazine
So what do young women have to say about binding when they have guaranteed anonymity?  I spent an evening scrolling through 'Whisper" and capturing what these young women had to say. Here are 72 'confessions' about the pain of binding. This rest of this article is about giving those anonymous voices a platform.











YouTube is chock-a-block with videos on how to bind 'safely'; how to make a 'DIY' binder…  and nestling among them is this.  I'll give the last word to this brave young woman who has dared speak out on YouTube about her relationship with binding. I hope more young women see this: I hope more young women hear her voice: I hope more young women find the strength & courage to destroy their binders.
"I talk about my relationship with breast binding in this video, exploring what drove me to conceal my breasts for years as a form of self-harming coping behavior. At the end I make a commitment to ending my own binding through destroying my breast binder."

                                                                                                                        Kat KatKat
.
POST SCRIPT 8/11/17
Writing this article was quite emotionally draining, and I forgot to add one last very important thing- this message from MORF, to all those teenage girls out there whose parents want to protect them against the damage binders can cause.
Your parents hate you.