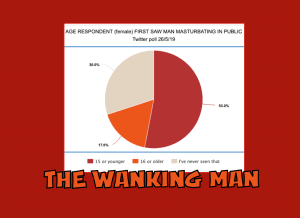 From a very young age we are told to stay close to our parents, not to speak to strange men in the park, or by the toilets, not to walk down alleyways… The girls in my family were raised with the mantra, "If you're lost, ask a lady with a baby, if you can't find a lady ask a policeman".
My mum remembers the other kids on the street warning each other to stay away from the priest from the church at the top of the road back in the 40s. We all had certain teachers we gave a wide berth in the 70s and 80s.  We viewed the rhododendron bushes in the park with suspicion, we knew that bad men in raincoats lurked there- indeed sometimes one of our number would spring from the bushes clutching a few torn pages of a 'men's magazine' and we would gawp at the tacky- sometimes literally- pictures inside.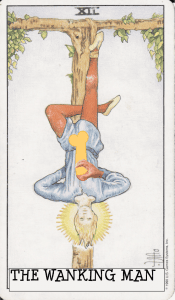 We don't like to say it, but all women know that men wank in public…
no, Tarquin, obviously not all men… yes, I expect there probably has been a case of a woman doing it…  yes, point taken, Tarquin…
I'll say it again. MEN WANK IN PUBLIC.
This is one of the very many good reasons that women need spaces away from bepenised persons AKA men. This is one of the very good reasons that we need to be able to name these bepenised persons AKA men. It doesn't matter if he's sporting fetching pink lippy, a moustache, a Man United football kit or none of the above. It doesn't matter if he's drawn to all things glittery and girly or he has a beer gut and drives a freight lorry for a living.
It is bepenised persons AKA men that feel the need to play with their knob in public and it's bepenised persons AKA men that need to be kept out of women's toilets, changing rooms, public pools, refuges, prisons.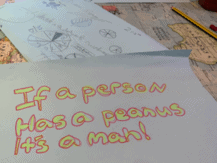 As smallest wrote on a piece of paper a few weeks ago (while she was supposed to be doing her maths homework) "If a person has a peanus it's a man!"
We cannot deny the reality of this, because to deny the reality of this is to make it impossible to record the data that chronicles sex crimes against women.
So far, I've been writing fairly lightheartedly about the subject, which may seem as if I'm overlooking one important point:
The Wanking Man is not funny.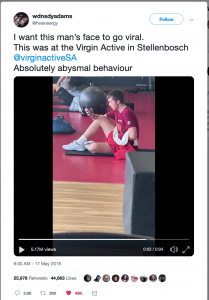 Last week  a Tweet went viral after a woman posted a video of a man filming in her local gym while an unaware woman in front of him did squats. The man was also masturbating as he filmed her. In the gym.
26k retweets later, Virgin Active had terminated his membership. At least I presume it was his membership. What they actually said was 'Hi! He has been terminated with immediate affect and will not be able to join Virgin Active again.'
Some men… yes, I know Tarquin, not all men… seemed to find the whole thing hilarious. Comments included 'can't even blame him' which got 350 likes; 'Homie was just hittin' arm day' got 478. 'Virgin active – clearly!' got 3.8k likes.
When a few women stepped in to observe that men were gros, however, the light-hearted banter stopped and the righteous indignation began.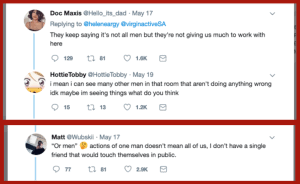 I am led to wonder how Matt knows that he doesn't have a single friend who would touch themselves in public.
Because, as @Passie_Kracht observed, somebody's doing it, that's for sure.
"This is what men do in gyms." tweeted Passie. "Yeah yeah, not all men. It doesn't HAVE to be all men, dudes! Just one who goes viral is enough to remind all women mixed gyms are not safe for us."
And in response she received over 100 responses, most of which were women telling their own stories.
This inspired me to set up a twitter poll of my own. What percentage of women had experienced 'the Wanking Man'? I was surprised how many of the women replying to Passie's thread had first met him as children.
When I was about nine, a man in the park had tried to persuade my little sister to go for a walk with him but I'd chased him off. So I suppose that doesn't count. We were on the beach about a year later when a man walked past us with his penis poking out of the top of his trunks. He touched it, but he wasn't exactly masturbating. Does that count? It wasn't until I was fourteen that a boy in the locker room at school masturbated in front of me and asked me to 'touch it, please'.  Fast forward eighteen years (and several wanking men) and my sister and I were in the local park at sunset with my toddler when we heard and saw a man masturbating in the bushes near the swings. Determined to put him off his stroke, we started singing "Winnie the Pooh, Winnie the Pooh, tubby little cubby all stuffed with fluff" at the top of our voices.
So when you look at the results of this poll, remember they don't include the myriad of men who've committed minor or major assaults against women; the men who rub up against us on the tube or who follow us just to try to scare us a little.
This poll was purely concerned with the Wanking Man, and the result astonished me.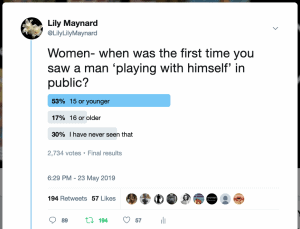 2,734 women responded to the poll.
SEVENTY PERCENT of respondents had encountered the Wanking Man.
FIFTY THREE PERCENT – over half of all the women who answered the poll – first experienced the Wanking Man as children: age fifteen or younger.
Just THIRTY PERCENT of women who replied to the poll had never experienced the Wanking Man.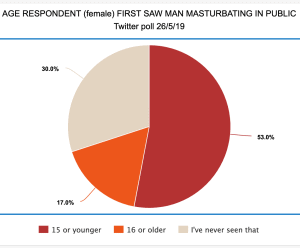 Here are a selection of the 106 replies to Passie's comment that 'almost all women and most girls have experienced this':
Was a nanny to two small children and man in motorcycle helmet appeared while we were alone in a park. Around 5 times since including when alone in train carriage at night and walking down a side street in Clapham on a sunny sunday afternoon..
I was eleven & he knew my early morning paper round route & would regularly be waiting for me.
At the beach with my sister. She was 9, I was 12.
6 years old.. in a tiny village school that took kids up to aged 15 if they didn't make the grade for High School. He was 15.
I was three with my very heavily pregnant mum. There have been a few other subsequent times.
First time, I was 10……he was all red-faced and slightly drunk, just wandering up the road about 2 minutes walk from our house Couple of years later, my sister & I were confronted by a young-ish bloke while walking through an area awaiting demolition (so lots empty houses)
Age 9 a man parked in the car next to us looking at women and girls. Age 11 on a school trip man in opposite hotel window looking at us young girls. Age 19 man in street.
It was gross, this guy used to wank himself waiting for the Wellington train. Wore a boiler suit for easy access. Probably 16 back then.
I would have been 11, with some school friends. He was watching us while he did it.
When I was 11, playing in the woods with a friend. He'd taken his trousers and underpants off and was sitting on a big rock. Asked us if we'd like to touch his penis.
I was a little kid just sitting at the back of the bus when I saw a bloke wanking for the first time. I have seen it many times since. On the subway in NYC, in a unisex loo in Paris, on a coastal walkway in Sydney, on and on and on.
18. Was trying to take a nap and heard this incessant shuffling outside. Kept thinking it would pass. Finally got up and looked out of my apartment window to an older man carrying his groceries in one hand and wanking with the other.
was about 18 or so, walking back to college at dusk in Oxford. It was in a quiet street, he came out of nowhere.
18 walking to the supermarket. He made some disturbing comments about my genitalia as I walked past
9. I was cornered in the showers at the swimming baths. My older cousin pulled me away and reported him,I remember having to talk to the police about it and getting asked lots of embarrassing questions. I didn't know what he was doing at the time.
Right out in the open, sitting spread eagle on a blanket at Jones Beach in NY. Children everywhere as it was summer. I could barely find the words to tell the lifeguards what was going on behind him.
I was 12. He was standing on the other side of the fence round the netball court
11 on my way home from school, he was hiding in bushes by the bus stop. Someone told one of the nuns (Catholic school) and she chased him off repeatedly hitting him with a hockey stick!
On a late night train. Only me and him in the carriage. Him staring at me. Gross and a bit frightening because I had no idea what he would do next.
When I was young there were small, Victorian parks between our houses & where the beach started. This kind of behavior from men in the parks was so common none of (us) even used to mention (it) at home.
Around my 14th birthday on the beach in HI. Mom did not believe until we saw the man another night on a crowded street when he yelled out, 'hey (my name) did you like what you saw?'
Another masturbated against my shoulder when I was sitting on a train in Paris. I was in my early twenties, and terrified. And others have exposed themselves to me. I've lost count of those.
19. In local park. Man sitting on bench. Watching me.
It's happened so many times… first time I was about 8, in the cinema. Then again on a beach at 9. Then several times once I hit puberty at 12/13/14. Then 'the wanker' that used to come and stand outside my window, wanking, whilst I was studying for A levels. Every day.
.
And here are some of the 89 comments women left below my poll:
Gave evidence in trial (via video link) when I was about 12. Had a chap wanking next to me and a bunch of other school kids on the tube. I remember it was very weird and confusing for us. We didn't know whether to find it funny or not.
16 in left luggage dept at the station; sisters 9 & 11 playing at the park.
The first time I was flashed I was about 12. The worst incident was when I was in my 20s, on a train going into Charing Cross. He was a few seats back, muttering, at first I thought he was having a conversation with someone but then I realised we were alone & what he was doing.
In a hedge aged 11, on the tube in late teens, once in a New York church..and at least twice more I can recall
The woods at the back of my school playground, at 8 in the morning. He was wearing nothing but a plastic monster mask. I was 13 or 14.
The man who was supposed to be painting our windows lay across the window sill and wanked I was sitting indoors doing homework when I looked up and saw what he was doing.
16 walking home from college. He was in the front seat of a car in Broad daylight with a tabloid newspaper. Next time age 21, on a tube at night, staring right at me with one hand through his coat pocket. I got off early as I felt really upset and scared, he continued to stare.
At first I thought never, then I remembered the guy who sat next to me on a bus as I was going to work who started to masturbate while touching my leg. I was in my 30's. I wonder how many other incidents I've deliberately forgotten, how many we all have.
First time I was 14. the number is now 4. Next time I'm going to knock him out hard!
10ish down at the Glen with my pals (happened several times over the years). 16 in Princes Square Gardens on a school trip. The boys chased him. Uncountable times over the decades.
7, in the park with my pal, he actually came out from behind a bush wearing a flasher-mac, like the creepy stereotype he was. We ran all the way home, too young to understand, but we knew we had to get away from him.