Oh dear, Feminist Library, how you have let yourself down. How very, very, very unfeminst you have become. And amidst all our dismay and disappointment, what a laugh you have inadvertently given us… but we'll come to that later.
The latest 'we hate women really' piece of activism coming from the Feminist Library is to attempt to get the recent £9,000 Lottery funding given to the LGB Alliance removed. The LGB Alliance plans to use the money to set up a helpline for LGB young people age 13-25.
The Feminist Library has crafted an  open letter, expressing 'concern and disappointment', making unsubstantiated accusations and demanding the funding be revoked. The LGB Alliance, it claims, is an 'anti-trans group' which 'supports conversion therapy'.
Dark accusations indeed. To consider them, we first need to look at the term 'conversion therapy'.
Conversion Therapy
Pro-child-transition groups see the idea of suggesting to a child that they might not actually be trans, or that 'trans' as a condition may not exist, as abusive. This is one of the things they call 'conversion therapy'. So conversion therapy could be sitting down calmly with your child and asking questions like:
Why do you think a girl might start thinking she was a boy?"
"How could a girl know how a boy feels?"
"How could it be possible to have a boy brain in a girl body?"
or expressing opinions such as:
"Boys have different bodies to girls."
"I don't believe you can change sex."
"Gender is about sexist stereotypes."
or a hundred other perfectly reasonable questions or thoughts that might- and should – spring to the mind of any parent who wants what is best for their child.

These questions, oh Best Beloved, are the tools of the evil conversion therapist who lives on the banks of TERF island and eats innocent little enby children for dinner. But of course, they are not. They are very reasonable questions that need to be seriously considered before setting a child or young person off down a trans pathway, clutching a pink and blue lunchbox and draped in a trans flag.
Why?
We know that social transition sets the stage for puberty blockers which set the stage for cross sex hormones which set the stage for surgeries (although sometimes the surgeries come first, or instead). We know that path can result in sterile adults, and we know many of these kids are gay, or autistic, or traumatised.  But still we are told we are not allowed to discuss these questions for ourselves; we are fed stock replies over and over and over by those who are applauded by the beguiled mainstream when they speak and we begin to believe the madness that is 'believe trans kids when they tell you who they are'.
The pro-child-transition charity Mermaids, cited in the Open Letter, calls such discussion 'conversion abuse' and an 'abhorrent practice' which 'harms trans people'. Mermaids believes in affirmation and only affirmation. In her TED talk Susie Green refers to her son having 'a girl brain in a boy body'.
On the Mermaids website currently, under the parents section, a woman called Julia reports "Calling the helpline was immensely positive and helped me to feel strong enough to support my child to be able to start their journey."
Wait… what journey? A phone call helped you decide you were going to tell your kid they could change sex? That is pretty damn worrying.
Yes, you can bet I have skin in the game. If you follow my blog you'll probably know that my own daughter, who initially came out as a lesbian began identifying as a boy when she was fifteen. We were lucky that our family was in a position to help her analyse the situation. That involved- as well as giving love and support- making it very clear that we didn't believe it was possible for a boy to be born in a girl's body (which was the narrative Mermaids et al were pedalling at the time).
My daughter is in her early twenties now, she's a lesbian, she's happy and confident. She doesn't have to deal with scars and medication and living in a constant state of cognitive dissonance surrounded by people who walk on eggshells. Of course, there were other factors in her desistance a year later, but she is very clear that she would have jumped at the chance to take hormones had I affirmed her and not asked all those awkward questions that she didn't want to hear at the time.
Mermaids would accuse me of 'conversion therapy'. These organisations would support having children like my daughter removed from their parents. And forget this nonsense that kids only get hormones after years of therapy – hormones can be easily purchased online and explorative therapy is exactly what they're trying to ban.
The LGB Alliance
The LGB Alliance was founded in 2019 with a vision of "lesbians, gay men and bisexuals living free from discrimination or disadvantage based on their sexual orientation" and its aims include "amplify(ing) the voices of lesbians and highlight(ing) the dual discrimination experienced by lesbians as women who are same-sex attracted in a male-dominated society."
It was granted charitable status by the Charity Commission in April 2021 and received a £9,000 grant from Lottery funding in June 2022.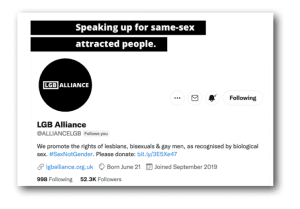 The LGB Alliance expresses concerns that gay children are being transitioned into ostensibly 'straight' children and aims "to protect children from harmful, unscientific ideologies that may lead them to believe either their personality or their body is in need of changing…
…any child growing up to be lesbian, gay or bisexual has the right to be happy and confident about their sexuality and who they are."
"Sexual orientation and gender identity are two distinct categories which need to be considered separately… affirming a child as 'trans', when they might otherwise grow up to be lesbian, gay or bisexual, is a form of conversion therapy."
This is a very different take on the meaning of the phrase 'conversion therapy'.
The Feminist Library claims to believe that "the LGB Alliance was set up to divide the LGBTQ+ community in a time of rampant transphobia…"
Wow. That's a pretty massive and enitrely unsubstantiated accusation.
The letter goes on to say that a coalition headed by Mermaids and Gendered Intellegence has launched an appeal against the LGBA's charitable status. Well of course it has!  Both organisations support the early transitioning of children, access to cross-sex hormones and surgeries. Remember, the CEO of Mermaids took her son's dolls away, and arranged for him to have his penis removed on his 16th birthday. Both groups are quick to  call non-compliant parents transphobic: I once heard Jay Stewart joke to a crowded room that GI were considering 'getting somebody in to handle the parents.' The audience laughed. Ha ha ha.
The Feminist Library abhors the idea that the LGB Alliance should set up a helpline for 'vulnerable queer youth' but that is not what the LGB Alliance plans to do. Their helpline is for same-sex attracted young people, many of whom may not even identify as 'queer'.  The LGB Alliance has worked with "a panel of experts in child protection, education, helpline delivery, fund raising and psychology" on plans for the helpline. They have been awarded £9,000- a mere drop in the ocean compared to the half a million quid Mermaids got from Lottery money in 2019 or the £300,000 that the goverment is giving Galop to run a National Conversion Therapy Helpline.
The Feminist Library also accuses the National Lottery of 'going against your equalities framework' in awarding the grant to the LGB Alliance.   It seems that LGB people are not to be allowed anything, ever, anywhere, without the T and spicy straights tagging along yelling 'transphobes!' at them.
The Feminist Library
The Feminist Libray was established in 1975 by a group of women who wanted to to ensure that the history of the women's liberation movement survived.
"The Feminist Library holds a large archive collection of Women's Liberation Movement literature, particularly second-wave materials dating from the late 1960s to the 1990s," states their website.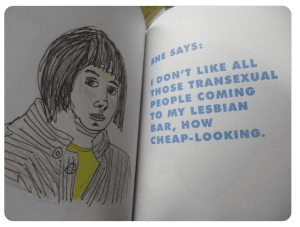 In 2018, middle child and I visited the Feminist Library Christmas Fair. I flipped through some of the 'trans rights' books on one table. I was so astonished I took a photo of this page. For a feminist library, they sure support some lesbophobic shit.
It's a Very Good Thing that the Feminist Library exists and I hope it continues to do so. Archives are an essential part of any movement, although it hardly seems possible for the library to be recording a balanced view of contemporary feminism while behaving as it does. Will those running the library, I wonder, have acquired copies of books by Helen Joyce and Kathleen Stock, for example? Will Sheila Jeffreys have been banished? Is Germaine Greer languishing in a backroom or kept in a locked case marked 'potential trigger warning'?
The Feminist Library blocked me on Twitter a long time ago (of course it did), so I log into a different browser to see what it's up to lately. It has a pink and blue banner which reminds me of my less successful attempts on 'Draw Something'. Of course, it may have been drawn by a small child in which case, fair dos. Nice job.
The Twitter bio describes the Library as "Celebrating 47 years of Archiving & Activism. Intersectional/Trans-inclusive Library & Bookshop in Peckham"
And down the rabbit hole we go again. How can an organisation claiming to centre women embrace men who appropriate womanhood? Just nine words into its Twitter bio.
The library recently moved to Peckham but is currently closed for renovation work. All the more time to focus on the important things – like taking funding away from LGB young people!
So, back to the Open Letter.
The Open Letter has now received 4,500 signatures, but many are not what they initially seem. The petition has been flooded with faux signatures, some clever, some funny, some just plain daft. They call the library out on its homophobia, its centering of men in feminism and its determination to rebrand same-sex attraction as 'queer'.
About a third (well over 1,000) of the signatures on the open letter are fake, angered by the libray's stance.  All signatures are publically viewable on the open letters page, at least for now. Inclusion below doesn't mean I agree with the sentiment or even find it funny.  This is a public open letter and the Feminist Library has not attempted to remove or hide any of these signatures. So here are 500 of them for your perusal.
I've removed 'real' signators although I very nearly deleted Iona Wilson, Dixie Recht,  Amy Soginist and Mike Oxlong because they were so real-sounding!
There's another link at the bottom in case you're inclined to sign yourself.
You can add your own signature to the Feminist Library's letter here.
You can make a donation to the LGB Alliance here.