On 28th March 2023, a group of around thirty five women gathered outside the New Zealand High Commission (NZHC) to protest against the New Zealand government's apathetic response to the violence encountered by women in Auckland, show support for the women who were caught up in it. They sang a song of solidarity and read aloud the speeches of those who were unable to speak at the cancelled events.
The protest was decided on the day before. Organiser Shirley told me 'I thought it would be just me and a couple of others. But word spread."
The protest wasn't advertised on social media, and for that reason we were able to meet without a group of menacing psychopaths screaming abuse at us. Which made a nice change after Sunday.
I went along to give support and take some photographs.
The protest began outside 1 Pall Mall, where Shirley told me New Zealand bureaucrats are temporarily housed while the main embassy building is undergoing refurbishment. After about half an hour outside Kinnaird House, where the women sang and spoke to passers-by, we moved to the currently closed embassy building around the corner. This was partly because of nearby roadworks and partly so the group could 'cover both bases'.
The chances are you already know about Kellie-Jay Keen's visit to New Zealand on her Let Women Speak Tour and how it played out. You've almost certainly heard how some deranged idiot covered her in soup in Auckland, where Keen's security guards had to drag her away from a baying mob.
In the Spectator, in a piece titled 'Fear & Loathing in New Zealand', Keen describes the mob as "competing groups of woman-hating losers: trans incels to the left of me and Nazis to the right, and here we were stuck in the middle."

"It was like something from a zombie-apocalypse film." she told Spiked. "The mob surged forward… and I just thought, this is it, I'm going to get crushed to death now. Game over."
Kellie-Jay was not the only woman to be assaulted at the rally in New Zealand. You may have seen the video of an elderly woman being punched repeatedly in the head. More and more stories are coming in of women who were injured or terrified in the riot.
The New Zealand government responded by saying it couldn't guarantee Keen's safety if the tour continued. The tour was cut short and Keen returned to the UK without the planned stop in Wellington. It is a tale of horror and misogyny.
"My activism is simple," says Keen. "We Let Women Speak. Why does that make anyone so angry?
I wasn't in New Zealand, but I was outside the NZHC on Tuesday.
A story that hasn't been told, until now, is that of the women in New Zealand who had planned to raise their voices at a Let Women Speak event but were unable to do so.
"It's not about speaking on behalf of women in New Zealand, but about sharing the words of those who were unable to speak in Auckland or Wellington, and showing our solidarity with them," one of the women told me.
Anyone who wanted to participate was given a speech to read out loud, while Venice Allan livestreamed their words.
In this way, those women's voices were amplified.
I asked Shirley why she had felt the need to protest.
"Seeing Kellie-Jay almost die in Auckland… it was just so devastating," she told me.  "I was just feeling so powerless, especially after realising that Wellington was being cancelled. There was just this feeling of 'what can we do?' and I just said "I want to go to the New Zealand Embassy to protest." It's unacceptable for a government to allow this to happen to anybody- to their own citizens, but let alone a citizen of another country."

"Those women (in New Zealand) have had their voice taken away," continued Shirley. "So I wanted to make a space for their speeches to be read. When the speeches were collected and sent over to us, the women specifically requested that we sing the Women's Rights song, the Auld Lang Syne song. They had planned to sing it and they really wanted us to sing it for them. And we have done."
After speaking to enquiring passers by and singing, as planned, the women moved on to stand outside the currently unocc NZHC where there was some shelter from the rain and the noise of roadworks. There they read out the words of the women who had been unable to speak at the rallies in New Zealand.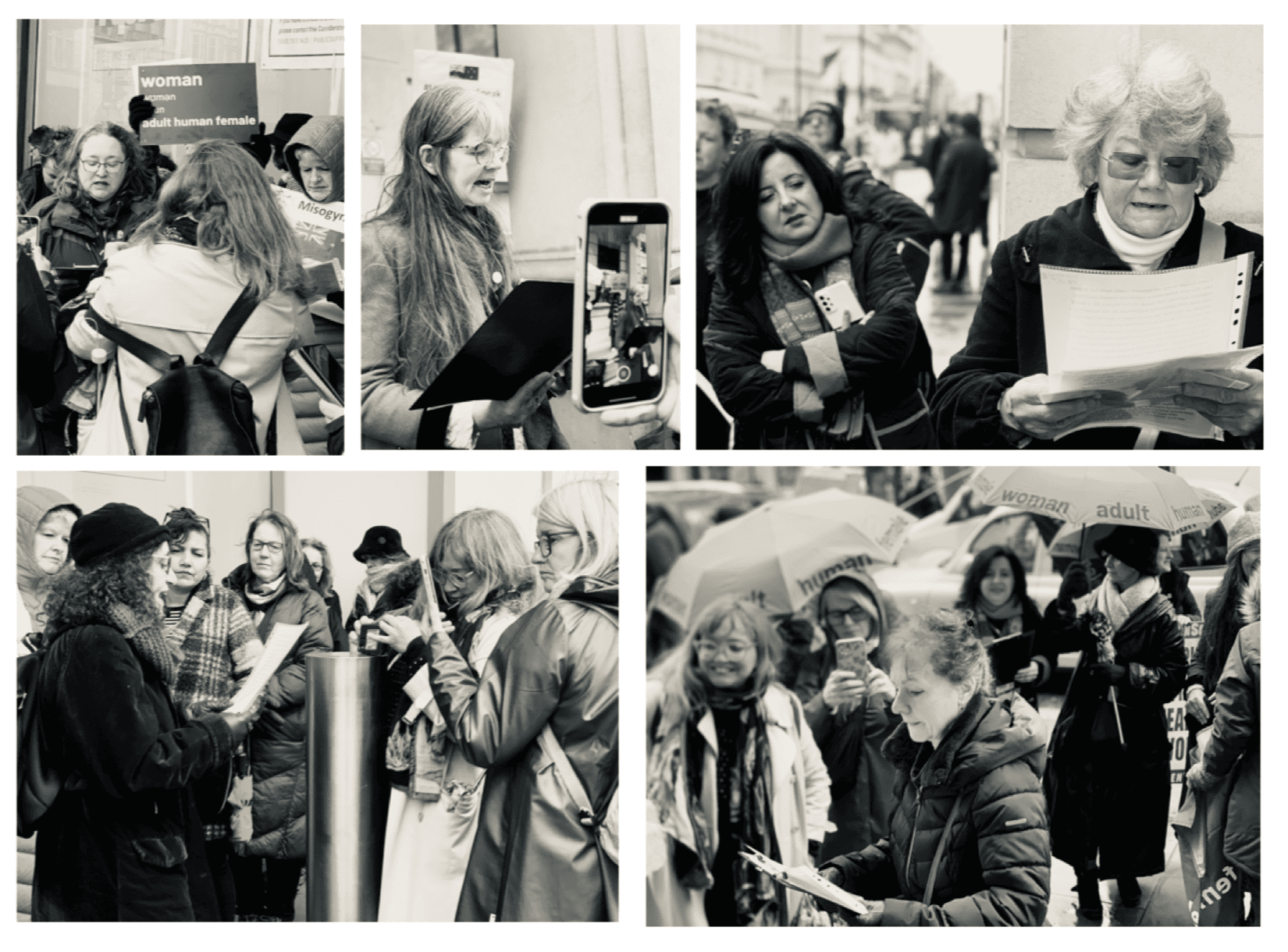 "It was powerful to hear the speeches that the women in New Zealand were prevented from making on their own land," Venice told me.
You can watch videos of the speeches here, on her YouTube Channel
There is a short video of the women singing here.
"OMG I'm in tears thank you." tweeted Linda from New Zealand.  "We were going to sing this very song on Saturday. The emotions hearing your voices is overwhelming. Sending love and thanking each and everyone that is shining a light."
"Thank you so much for this." tweeted Claire-Louise. "Tears in my eyes. I'm a first-generation NZer of French, German, and British descent wishing I was anywhere but NZ"
"From a kiwi/Aussie family, thank you." tweeted another.
"Thank you," tweeted Lizzy." I feel so much love for you ladies you've brought tears to my eyes."
There were also a lot of  scathing comments from TRAs, obviously, mostly snidey stuff along the lines of 'you're all old and shit at singing'.
The song the women sand, to the tune of Auld Lang Syne, goes like this, and was first sung by For Women Scotland. There is a pdf copy of it here:
We stand together side by side, we will defend our rights
We stand together side by side, we'll not give up this fight
For women's rights are human rights, we won't let you forget
For women's rights are human rights, this isn't over yet.
Politicians and their friends may think we can be cowed
Our minds and bodies we'll defend, our NO will ring out loud
For women's rights are human rights, we won't let you forget
For women's rights are human rights, this isn't over yet.

So gie's a hand in sisterhood, our sex won't be denied
For dignity, reality, we are standing side by side
For women's rights are human rights, we won't let you forget
For women's rights are human rights, this isn't over yet.