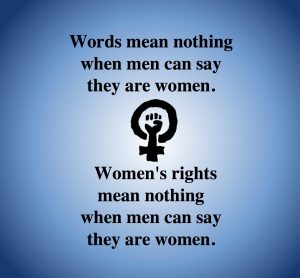 If Transwomen ARE women, do we need a new word to define the type of humans who are structured to menstruate, give birth & lactate; who have a uterus and breasts and are oppressed because of their biology ? ***
If we don't need a new word, why not?
Women are 51% of the world's population. Are our rights so unimportant?
If we do need a new word, what should it be, now we're no longer allowed to use the word 'woman' to exclusively describe ourselves?
***  Examples of oppression for biological reasons include: selective abortion, higher rates of childhood abuse and sexual abuse. FGM, rape, exploitation through prostitution or surrogacy, access to abortion, access to education, low pay,